DISCOVER A DEEPER CONNECTION
Featuring SubWave sonar-based communication and diver monitoring, this advanced, air-integrated1 dive computer and smartwatch comes with Garmin innovations to help prepare you to make the most of your diving experience — plus multisport training and smart features for your active life out of the water.
SUBWAVE SONAR-BASED DIVER MESSAGING (COMING SOON VIA REQUIRED SOFTWARE UPDATE)
UP TO 30 HOURS OF BATTERY LIFE IN DIVE MODE
CHOOSE FROM MULTIPLE DIVE MODES
DIVEVIEW COLOR MAPS WITH DEPTH CONTOURS AND DIVE SITES
USE THE DIVE READINESS TOOL TO INFORM YOUR PREPARATION
BUILT-IN LED FLASHLIGHT WORKS ABOVE OR BELOW WATER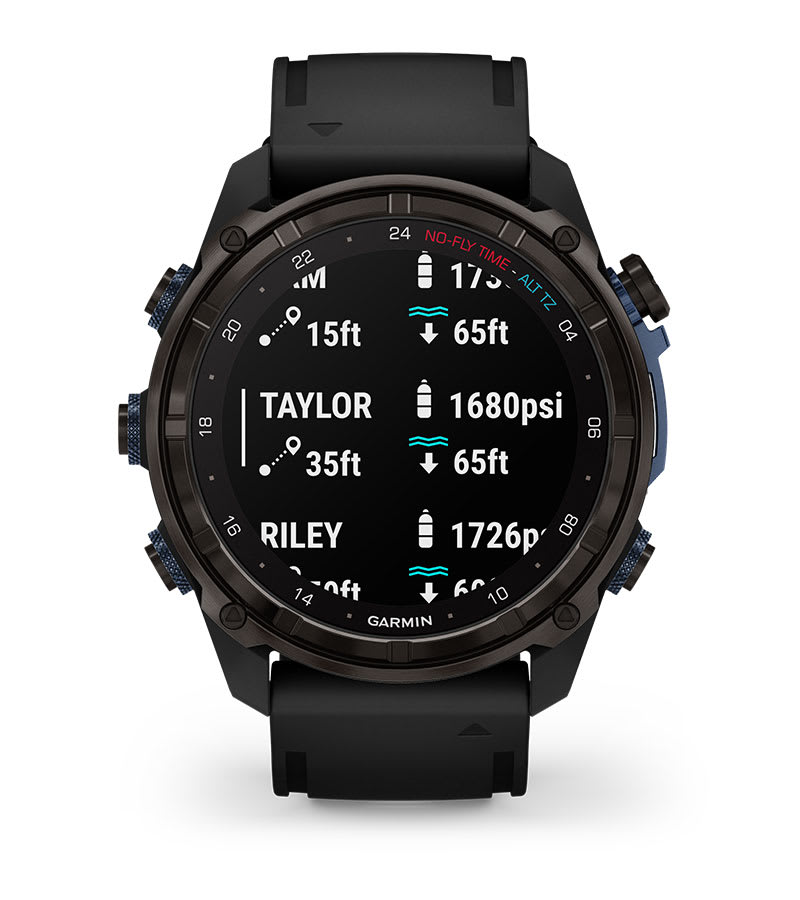 AIR INTEGRATION
Pair with our Descent T2 transceivers (sold separately) for integrated pressure monitoring on up to 8 tanks via the SubWave sonar data network.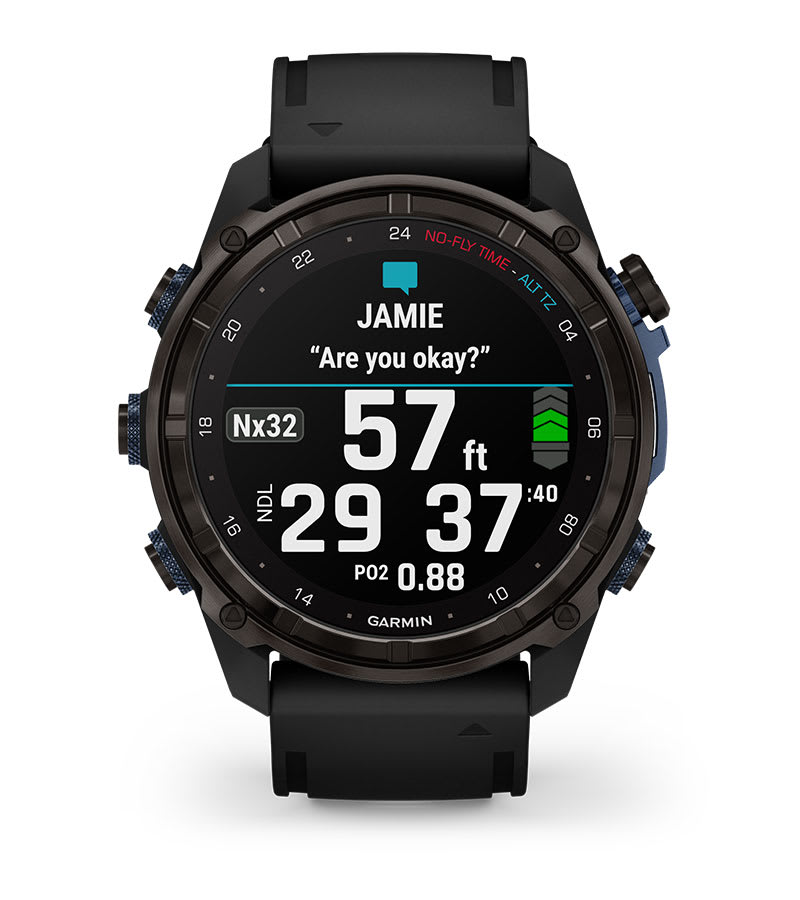 Exchange preset diver-to-diver messages (coming soon via required software update) up to 30 meters as well as monitor tank pressures and depth for up to 8 divers within a range of 10 meters1.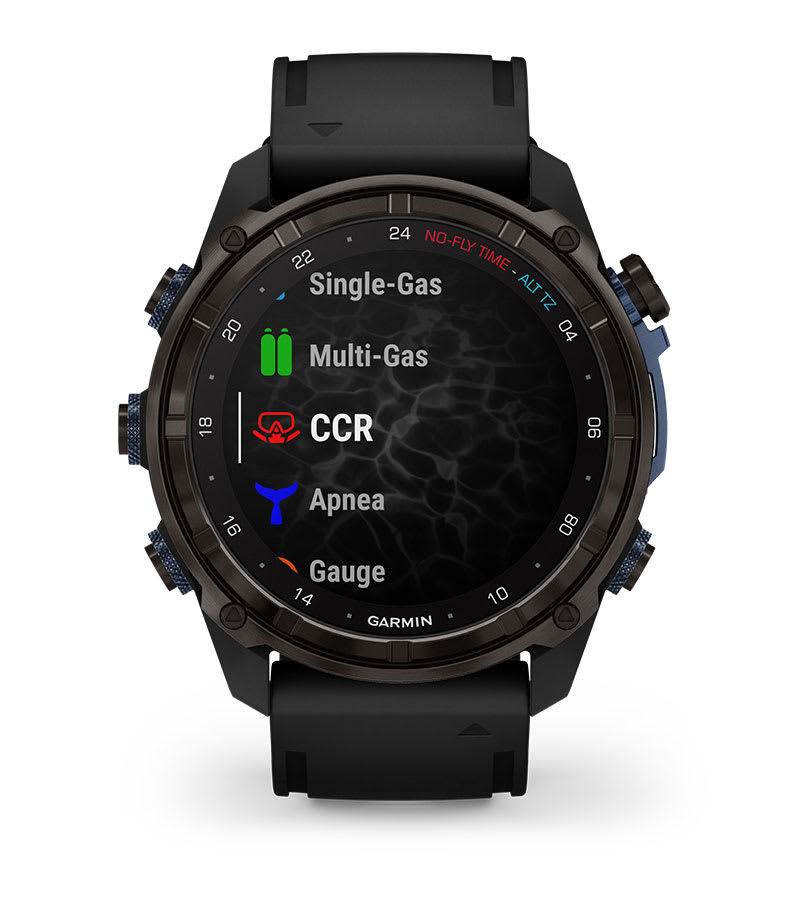 DIVE MODES
Get multiple dive modes for single and multiple gas dives (including nitrox and trimix), gauge, apnea, apnea hunt and closed-circuit rebreather.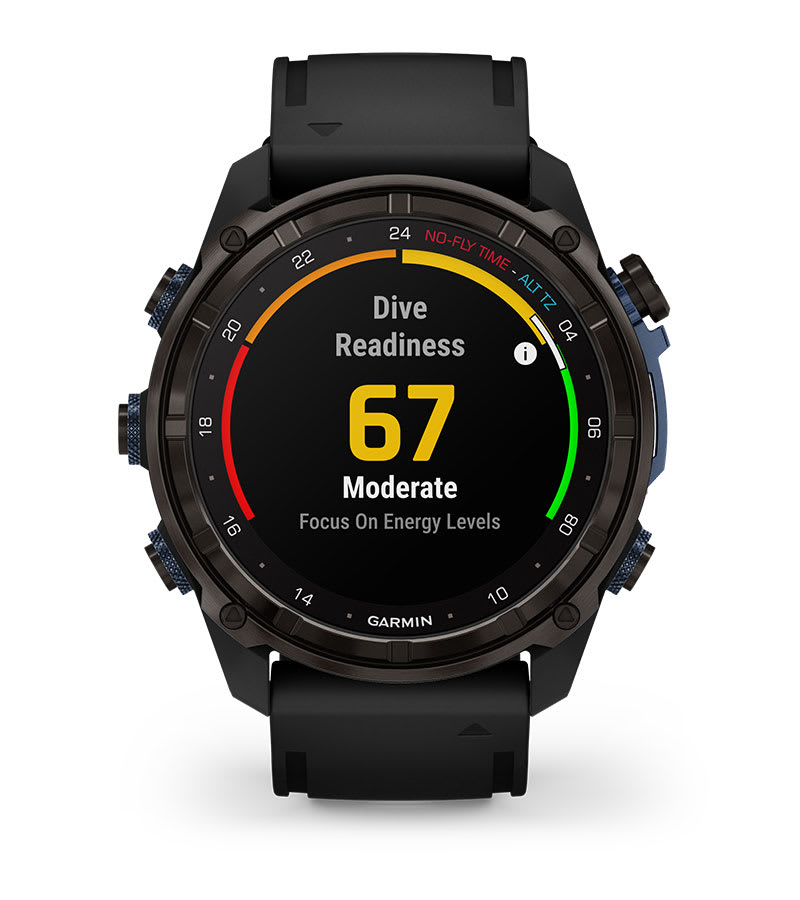 DIVE READINESS TOOL
This Garmin first technology shows how lifestyle factors such as sleep, exercise, stress and jet lag can affect your body — to help gauge when you are best prepared to dive.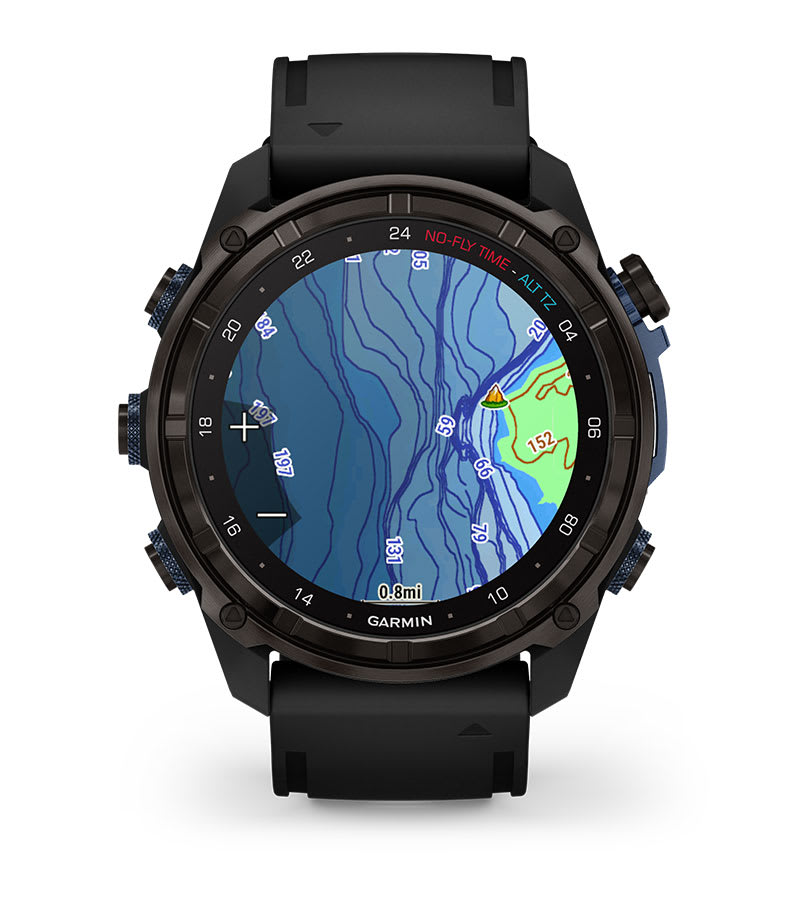 DIVEVIEW MAPS
Color maps on your wrist offer bathymetric depth contours and more than 4,000 dive sites to help you discover new places to dive and get oriented.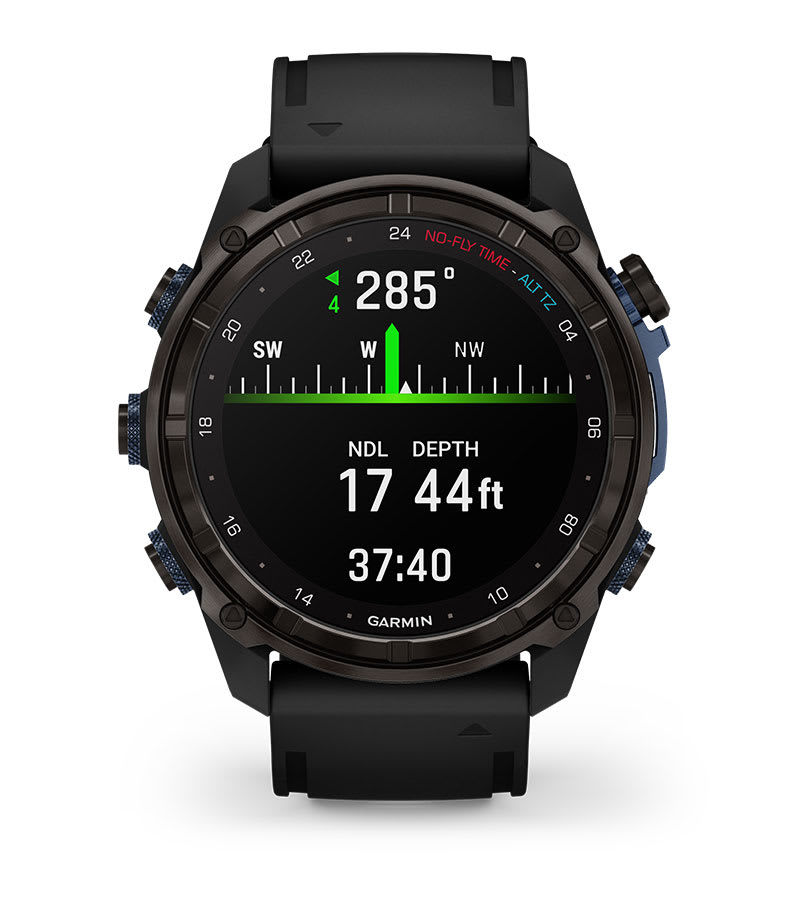 DIVE-FOCUSED DESIGN
With its bright 1.2" AMOLED color display, sapphire lens, 200-meter dive-rated case and leakproof metal inductive buttons, this watch is built to go deep.
A STANDARD ABOVE FOR YOUR WORLD BELOW
DIVE FEATURES
---
BUILT-IN LED FLASHLIGHT
See and be seen with variable light intensities and strobe modes, in or out of the water.
DIVE LOG
Store and review data, track gear, take notes — and share via the Garmin Dive smartphone app.
LONG BATTERY LIFE
Stay in the water longer with up to 30 hours in dive mode plus up to 10 days in smartwatch mode.
CUSTOMIZABLE DIVE MODES
Add additional screens for each dive mode that features the fields you want to see.
Track your entry and exit points on the surface with advanced satellite connectivity.
Pair the app with your Descent dive computer to automatically sync and upload your dive logs.
LUME MODE
To aid readability and help maintain night vision, an ambient light sensor gives a green luminescence to your watch face in low-light conditions.
Built-in ABC sensors, including an underwater compass, help navigate every part of your dive.
REFERENCE POINT
Use this GPS tool for surface navigation to a dive site, so you can drop right onto your target every time.
This tool helps you monitor your freedive descent and ascent rates through tone and vibration feedback.
Get a simplified dive screen on your wrist, with larger text to see critical diving data.
TIDE DATA
Stay up to date on ocean conditions by pairing your Descent device with your compatible smartphone.
INREACH DEVICE COMPATIBLE
Pair with inReach devices2 and the inReach dive case for satellite messaging off-grid.
HEALTH AND FITNESS FEATURES
---
SPORTS APPS
Use preloaded activity profiles for trail running, swimming, running, biking, hiking, rowing, skiing, golfing and more.
SURF ACTIVITY
Record the number of waves surfed, maximum speed reached, distance traveled and more.
SURFLINE CAMERA
Create a video of every wave you ride in front of a Surfline camera with Surfline Sessions technology. Use the Surfline widget to see tide, wave height, wind and surf rating for each of the five nearest surf spots3.
BACKCOUNTRY SKI AND SNOWBOARD
Get ascent and descent data along with metrics such as cadence, stride length and grade.
See your current fitness level, and track changes over time to set goals, evaluate progress and more.
Know how long you need to recover before your next high-effort workout based on your latest training.
View your entire week of daily suggested workouts, which adapt after every run or ride.
ANIMATED WORKOUTS
Follow animated workouts for cardio, strength, yoga and Pilates workouts on the watch screen.
The watch constantly samples your heart rate4 to help you gauge how hard you work during activities.
PULSE OX SENSOR
Track your blood oxygen saturation while you're awake or asleep, and gain awareness of how you're adapting to altitude5.
JET LAG ADVISER
Help to minimize the effects of jet lag with guidance on light exposure, sleep schedule and exercise.
This measurement uses your VO2 max, training loads and other factors to show how training affects your ability to sustain prolonged physical efforts.
Based on your VO2 max and training history, this feature measures your strength and endurance for running uphill.
GARMIN COACH
Train for physical challenges with expert coaching and a dynamic training plan keyed to your goals and performance.
Understand your body's recovery with sleep score, breakdown of your sleep stages and detailed insights for improved sleep quality4.
WOMEN'S HEALTH TRACKING
Track and log your menstrual cycle or pregnancy to get exercise and nutrition education.
NAVIGATION AND ORIENTATION FEATURES
---
SATIQ TECHNOLOGY
Get superior positioning accuracy with multi-band GPS while optimizing battery life.
MULTICONTINENT TOPO MAPS
Preloaded TopoActive maps from around the world keep your explorations on track.
SKIVIEW MAPS
View run names and difficulty ratings for more than 2,000 preloaded ski resorts worldwide.
ABC SENSORS
Navigate your next trail with an altimeter, barometer and 3-axis electronic compass.
PACEPRO TECHNOLOGY
Plan race-day strategy with GPS-based pace guidance for a selected course or distance.
COURSES WITH TURN-BY-TURN DIRECTIONS
Create or find existing courses in the Garmin Connect app, or sync from your favorite third-party platforms, and get turn-by-turn directions.
ROUND-TRIP ROUTING
Enter how far you want to go, and get suggested routes that will bring you back; even use TrendLine routing to find the best local paths.
CONNECTED LIFESTYLE FEATURES
---
SAFETY AND TRACKING FEATURES
If you feel unsafe or if your watch senses that an incident occurred, your watch will send a message with your live location6.
MUSIC
Download songs and playlists from your Spotify, Deezer or Amazon Music accounts for phone-free listening.
GARMIN PAY CONTACTLESS PAYMENTS
Breeze through checkout lines or transit systems with participating providers.
SMART NOTIFICATIONS
Receive emails, texts and alerts on your watch when paired with your iPhone or Android smartphone.
Add watch faces, data fields and apps to your paired smartwatch.
QuickFit accessory bands let you match your style with no tools required.

LEARN MORE
1
Additional equipment (sold separately) and device pairing required
2
Sold separately; active satellite subscription required. Some jurisdictions regulate or prohibit the use of satellite communication devices. It is the responsibility of the user to know and follow all applicable laws in the jurisdictions where the device is intended to be used.
3
When paired with the Garmin Connect smart-device app and the Surfline smart-device app
5
This is not a medical device and is not intended for use in the diagnosis or monitoring of any medical condition; see Garmin.com/ataccuracy. Pulse Ox not available in all countries.
SPOTIFY and the Spotify logo are among the registered trademarks of Spotify AB. Amazon Music and all related logos are trademarks of Amazon.com, Inc. or its affiliates. iPhone is a trademark of Apple Inc., registered in the U.S. and other countries. Android is a trademark of Google LLC.