MARQ ATHLETE - CARBON EDITION

The quest for excellence HAS UNLOCKED NEW POTENTIAL
YOU NEVER SETTLE FOR ANYTHING BUT THE BEST. YOU PUSH LIMITS TO ACHIEVE GREATNESS. YOU DEMAND THE FINEST. YOU WANT A MODERN TOOL WATCH THAT REFLECTS YOUR PASSION FOR PERFORMANCE.
A WATCH THAT'S AS UNIQUE AS YOU ARE

MACHINED FROM 130 LAYERS OF FUSED CARBON FIBER
AN EXPRESSION OF YOUR PASSION

WITH VO2 MAX AND RECOVERY TIME BEZEL MARKINGS
A DOMED SAPPHIRE LENS

GIVES A CRYSTAL-CLEAR VIEW OF THE DISPLAY
STUNNING AMOLED DISPLAY

AND RESPONSIVE TOUCHSCREEN
LOOK PODIUM READY

with a high-performance rubber strap
IT'S FOUND NEW STRENGTH, SO YOU CAN TOO

WITH ENDURANCE SCORE
UNCOMPROMISING BY DESIGN
Built for the toughest competitors, this modern tool watch features a stunning AMOLED touchscreen display with traditional button controls. The 46 mm case and bezel inlay are made from Fused Carbon Fiber for an ultradurable performance design.
BATTERY LIFE
Get incredible battery performance to keep up with your training — with a rechargeable lithium battery that lasts up to 16 days in smartwatch mode and up to 42 hours in GPS mode.
SPORTS APPS
Use preloaded activity profiles for trail running, swimming, running, biking, hiking, rowing, skiing, golfing, surfing, indoor climbing and more.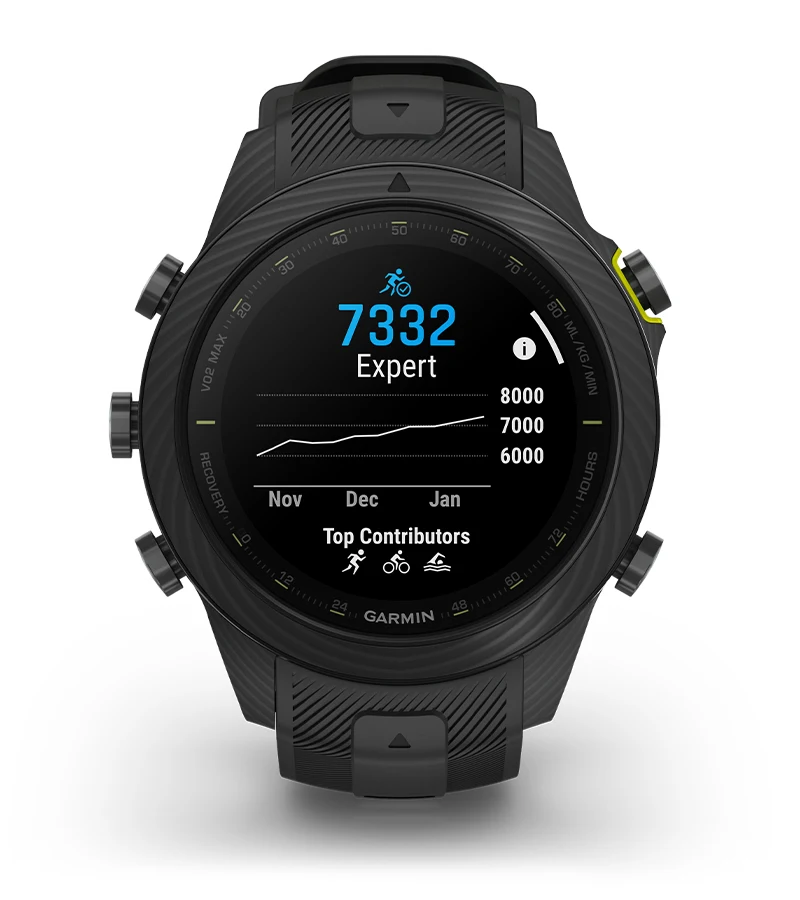 This feature measures your ability to sustain prolonged efforts and combines training data from all your athletic pursuits to help you understand how training impacts your overall endurance.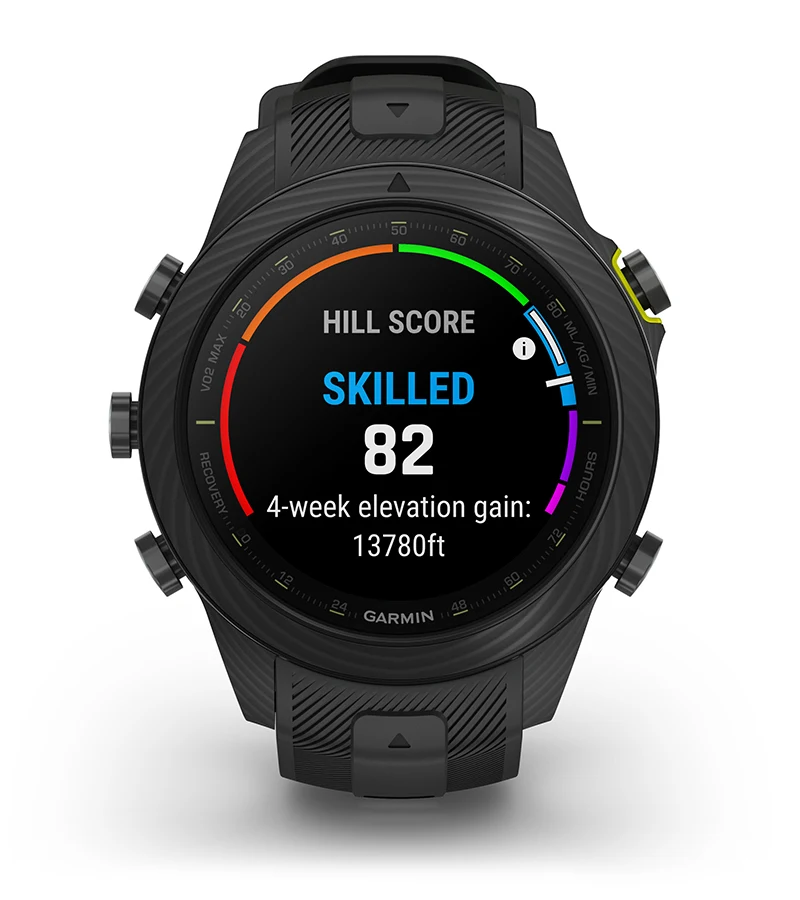 This feature measures your capability for running uphill and evaluates your progress over time based on your VO2 max and training history.
From the moment you wake up, get a readiness score based on your sleep quality, recovery, training load and more, so you can determine whether it's a good day to go hard — or take it easy.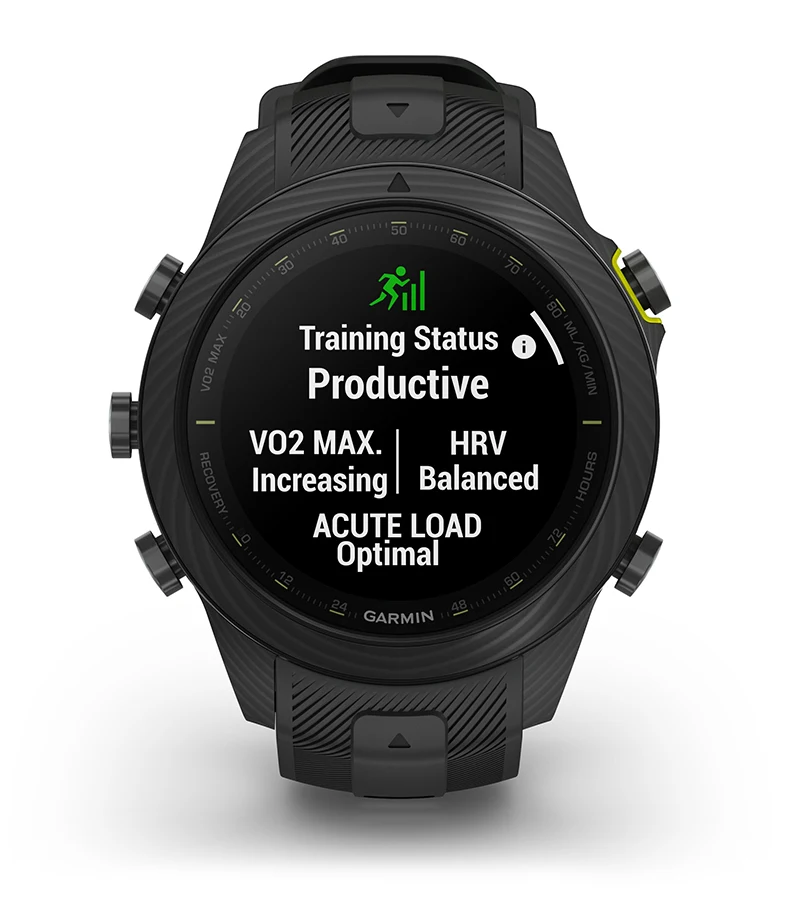 TRAINING STATUS
Using indicators such as HRV status, your recent exercise history and performance, get an easy insight into your overall effort — and whether you're training productively, peaking or strained.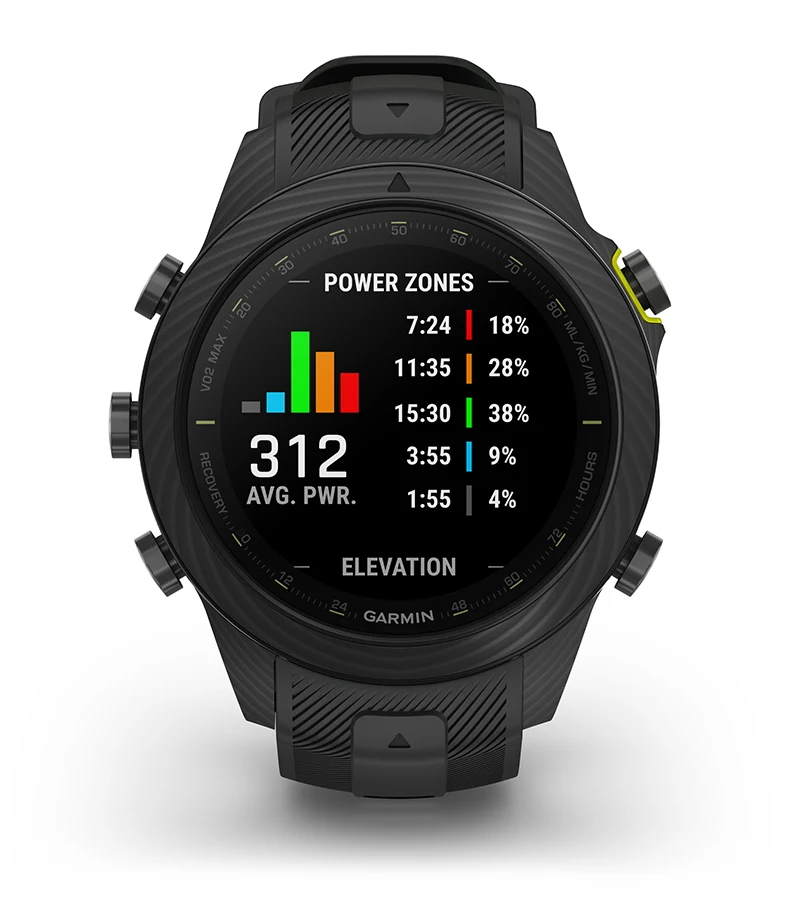 See how much power you're applying to the trail or the road so you can manage your effort and fine-tune your training. No accessory required.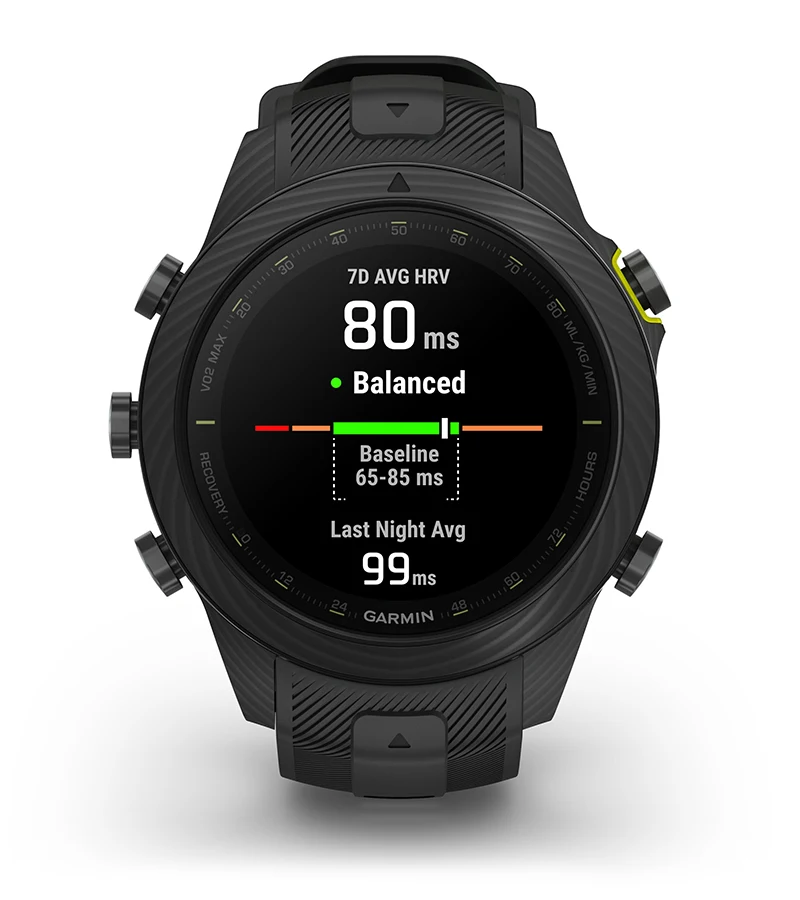 HRV STATUS
Gain a deeper understanding of your overall health, training and recovery through heart rate variability while you sleep1, based on technology developed by our Firstbeat Analytics team.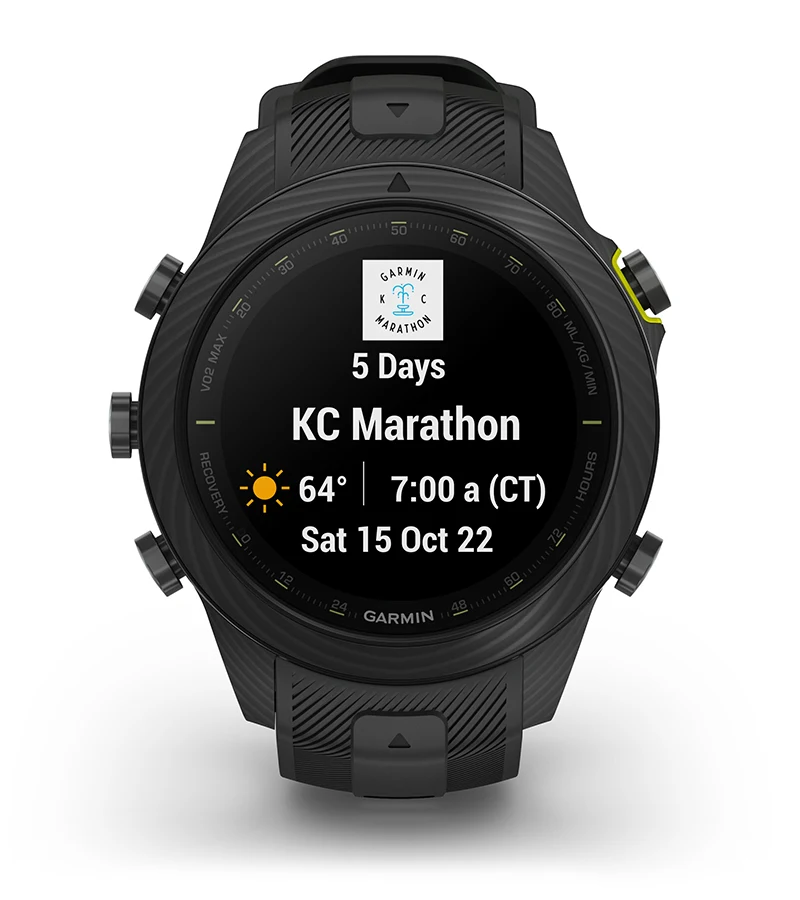 RACE WIDGET
Get ready for your next race with training tips, personalized daily suggested workouts and completion time predictions based on course details, weather and performance.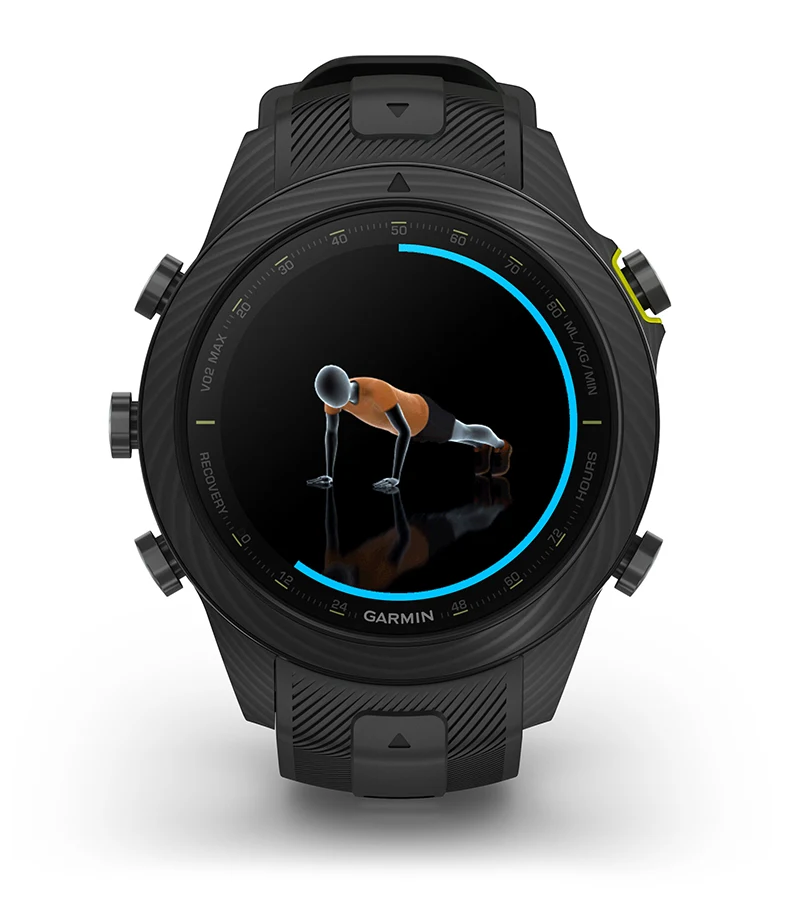 ANIMATED WORKOUTS
This watch features easy-to-follow, animated cardio, strength, yoga and Pilates workouts you can view on the watch screen. Choose from preloaded animated workouts, or download more from the Garmin Connect online community when paired with your compatible device.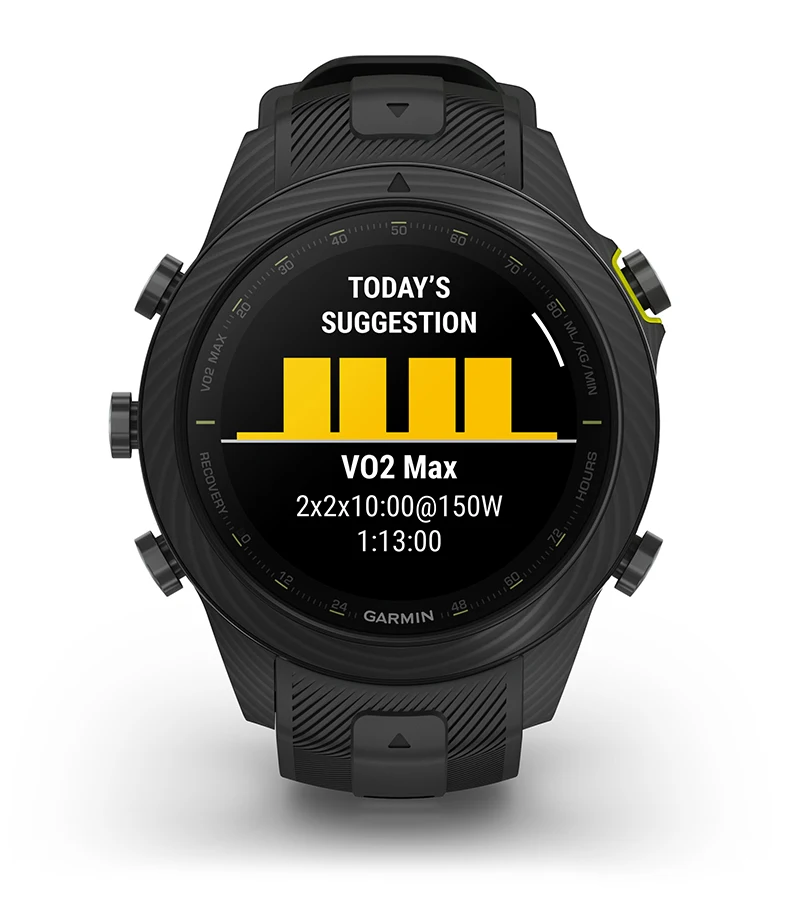 DAILY SUGGESTED WORKOUTS
View your entire week of daily suggested workouts, which adapt after every run to match your performance and recovery as well as the races coming up in your Garmin Connect smartphone app calendar.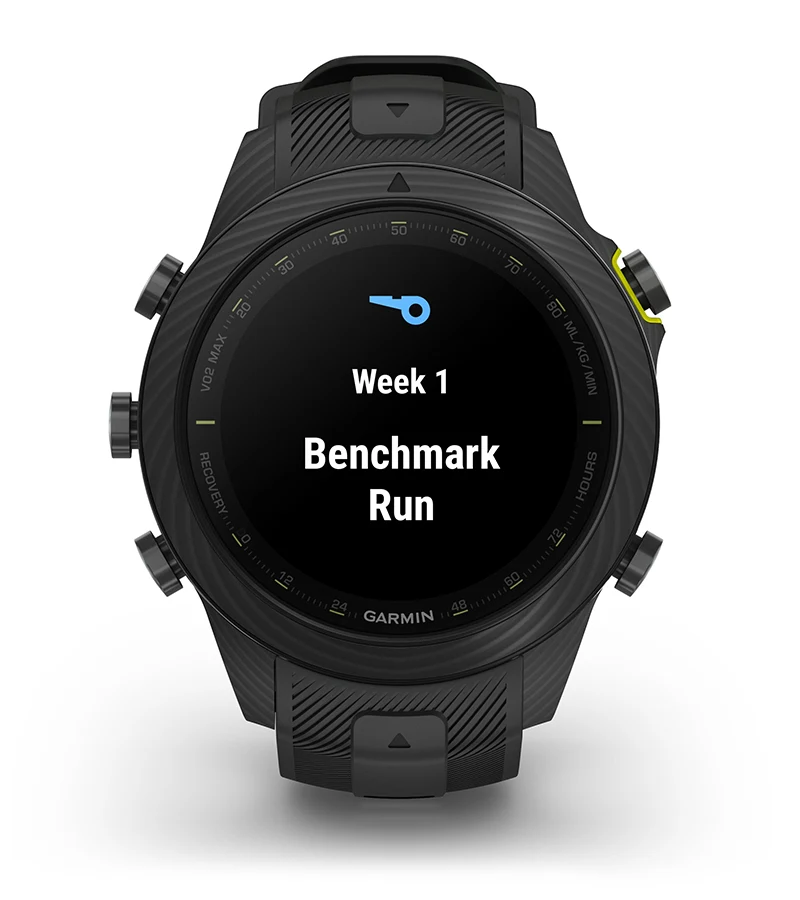 GARMIN COACH
These free adaptive training plans feature guidance from expert coaches and adapt to you and your goals. Workouts sync right to your watch from the Garmin Connect smartphone app.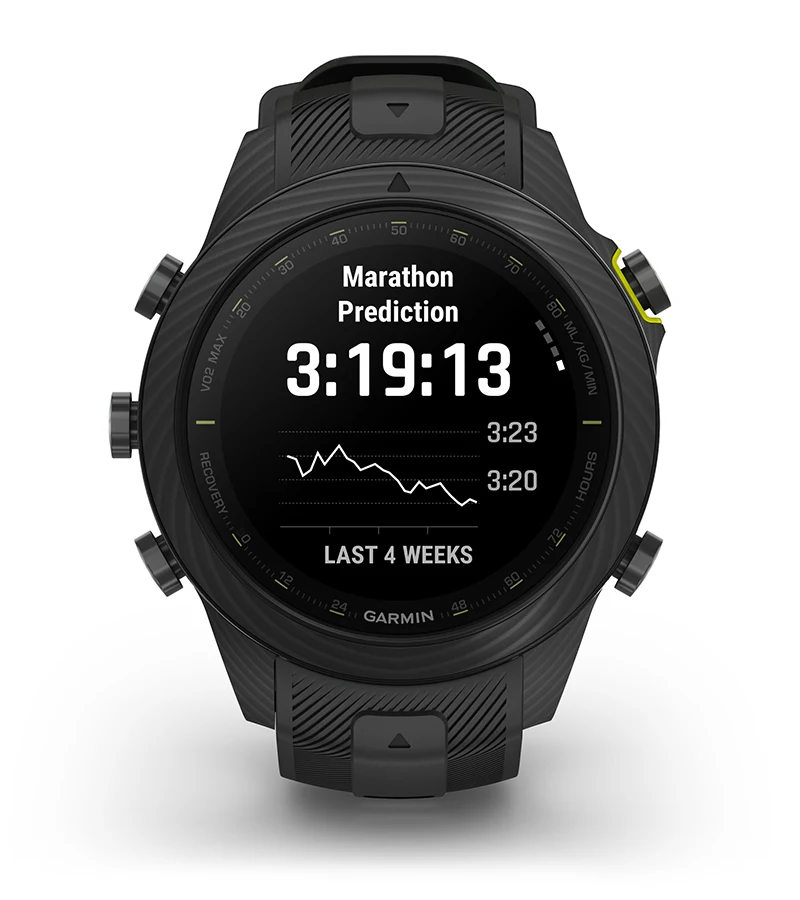 VISUAL RACE PREDICTOR
Based on your running history and overall fitness level, get an estimate of what your pace could be for a 5K, 10K — or even a marathon. Plus, trend data highlights your training's impact over time.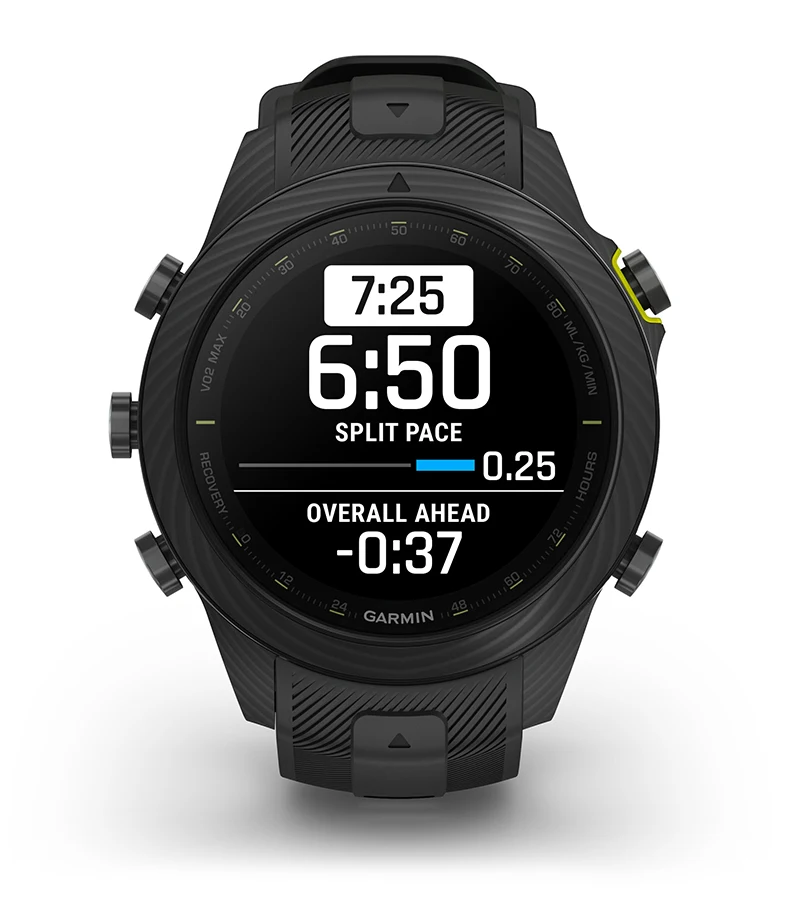 PACEPRO TECHNOLOGY
A first-of-its-kind PacePro feature helps keep you on pace with grade-adjusted guidance as you run a course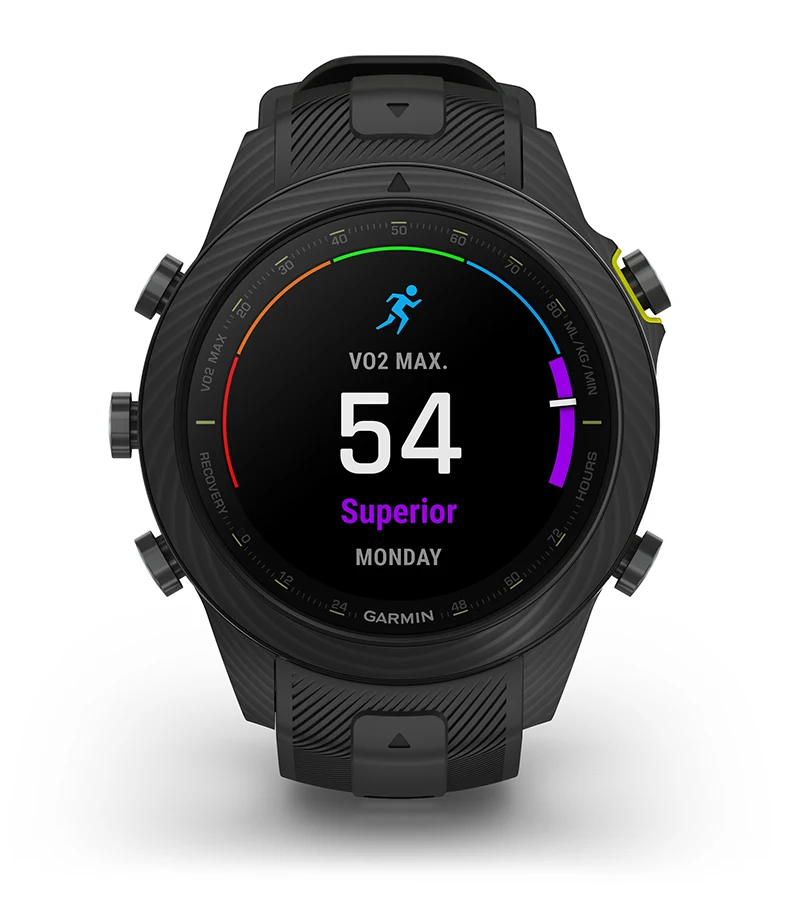 VO2 MAX
Train smarter with VO2 max, an indicator of how you can expect to perform. It adjusts for trail running and accounts for changes in performance that could be caused by heat or altitude.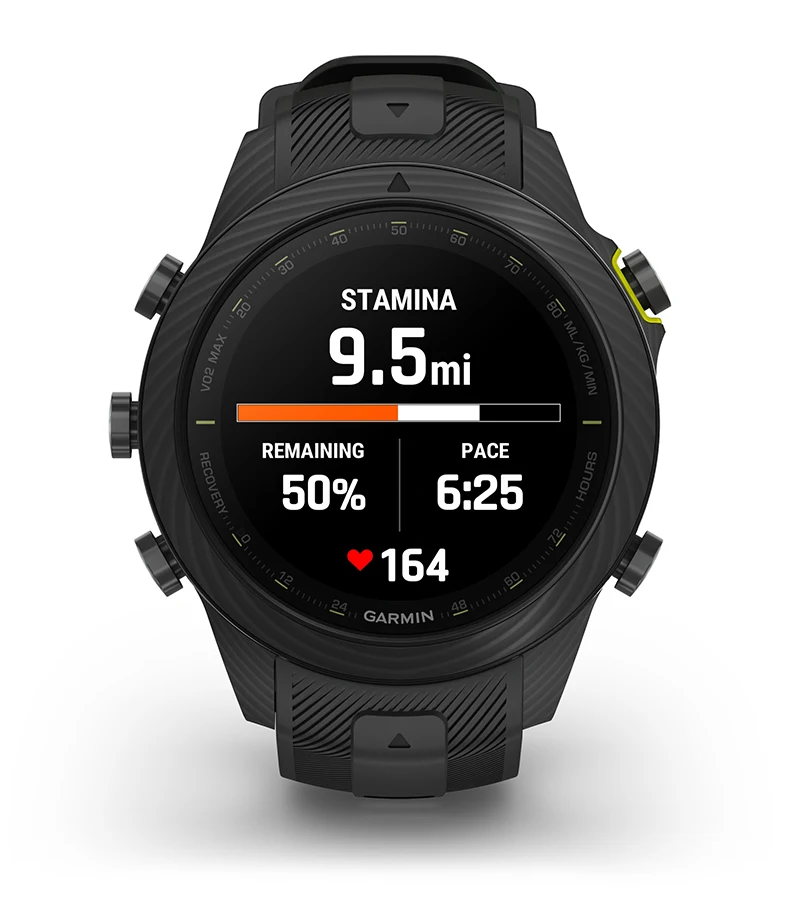 Use this real-time stamina data to track and manage your exertion — and help avoid overexerting at the start of your run or bike activity.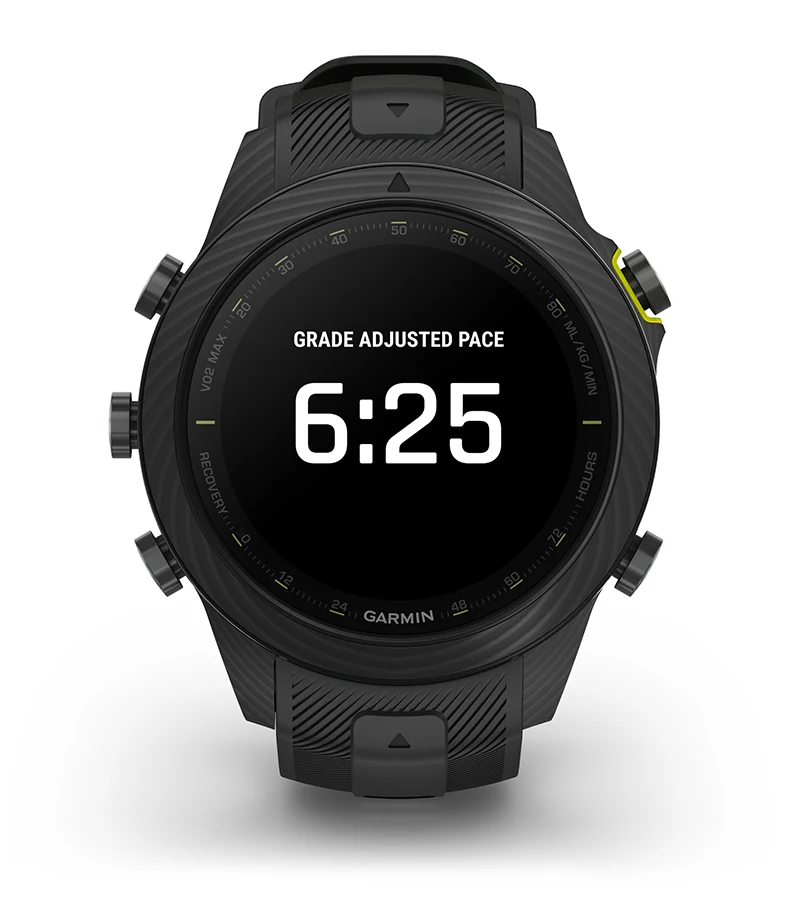 GRADE-ADJUSTED PACE
Don't run out of steam before the activity is over. Understand how to adjust your pace over varying terrain to perform according to your plan.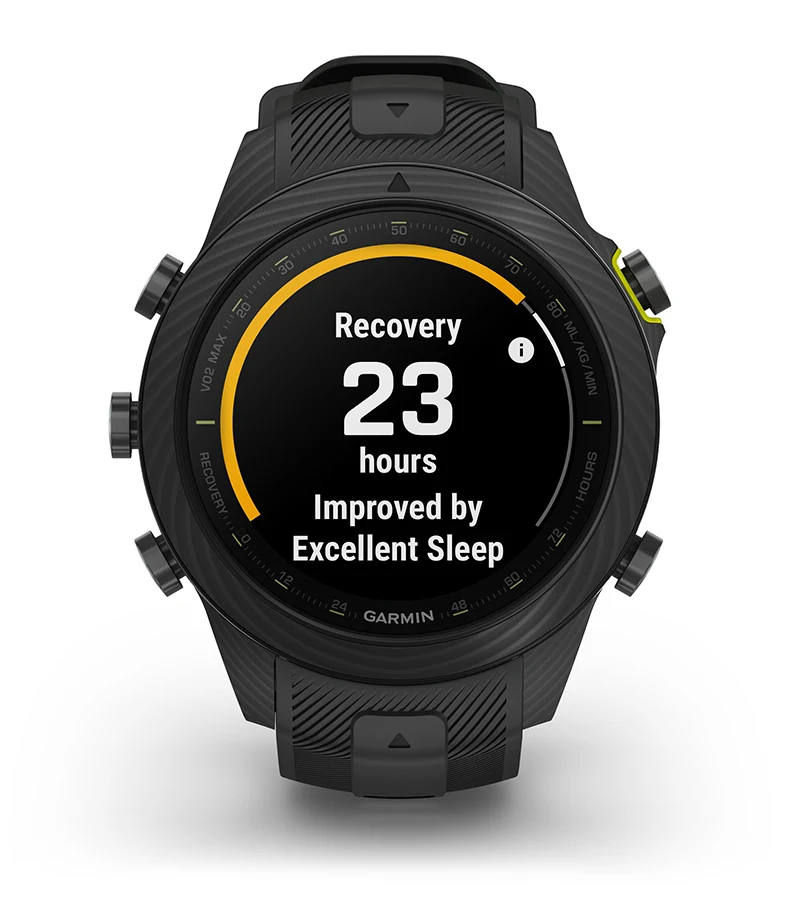 RECOVERY TIME
After each workout, recovery time lets you know when you'll be ready for another hard workout. It even accounts for training intensity and factors such as stress, daily activity and sleep.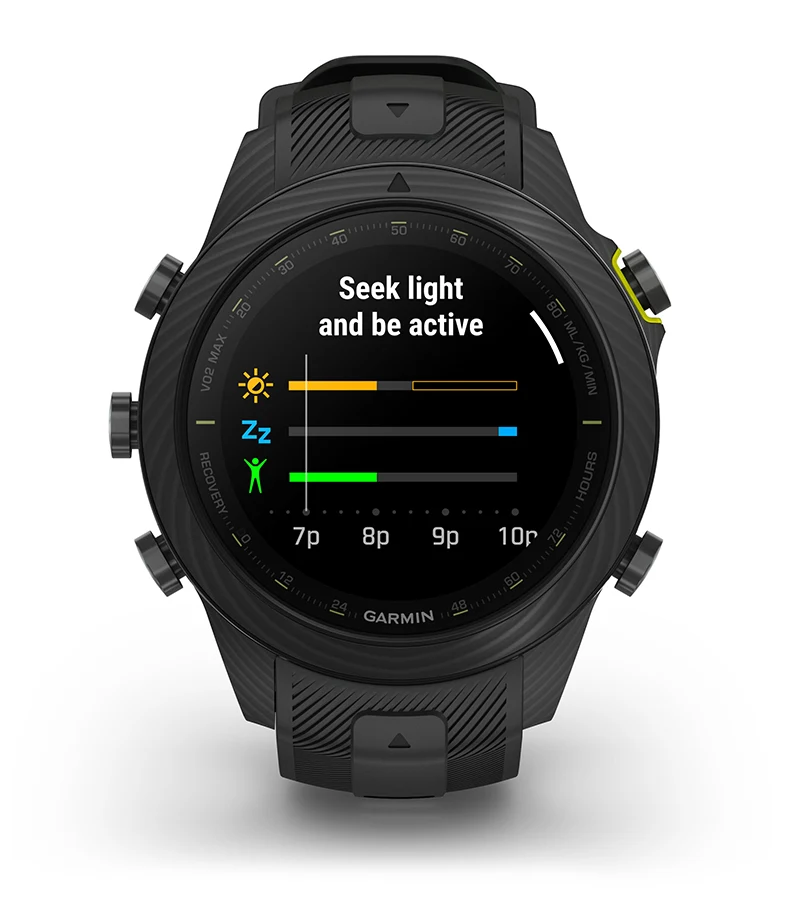 JET LAG ADVISER
Help minimize the effects of jet lag with guidance on light exposure, sleep schedule and exercise on your next long-distance trip. Enter your travel details in the Garmin Connect app calendar, and track how your body clock is adjusting to your new destination.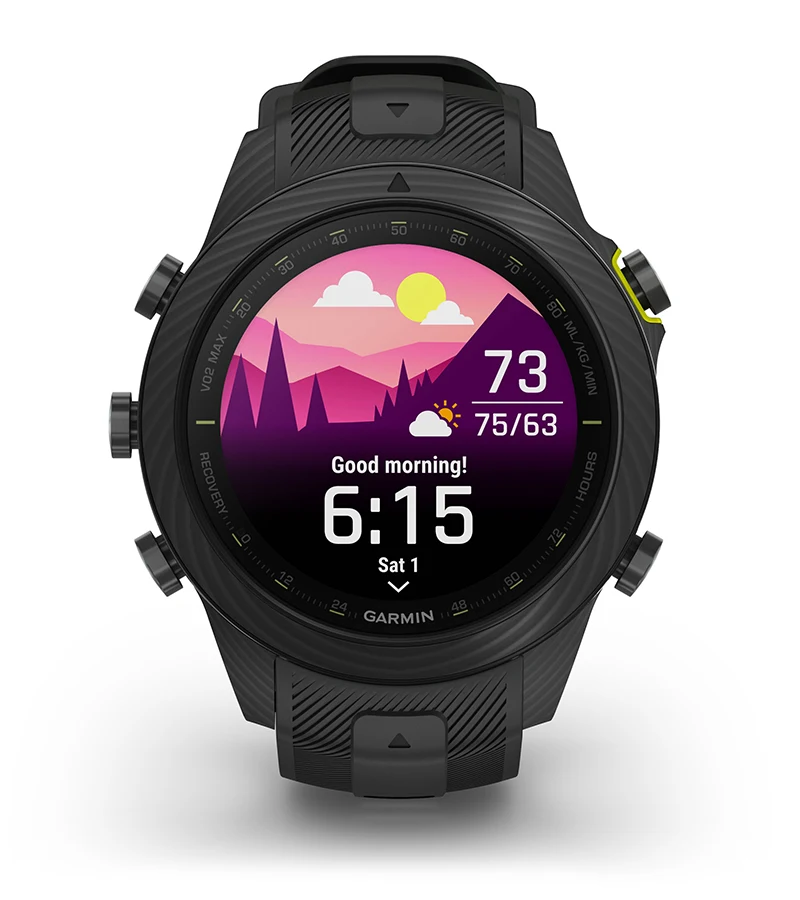 MORNING REPORT
Receive an overview of your sleep, recovery and training outlook as soon as you wake up — alongside HRV status, training readiness and weather. Customize your report to see the data you want.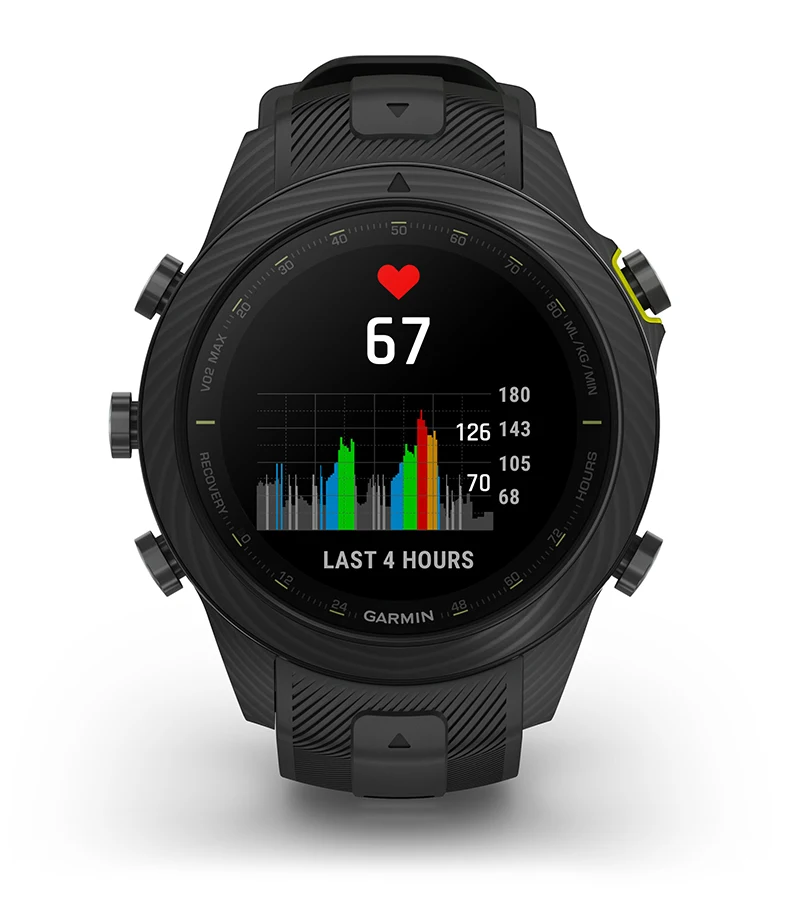 WRIST-BASED HEART RATE
The watch constantly samples your heart rate1, and will alert you if it stays too high or too low while you're at rest. It also helps gauge how hard you work during activities — even while swimming.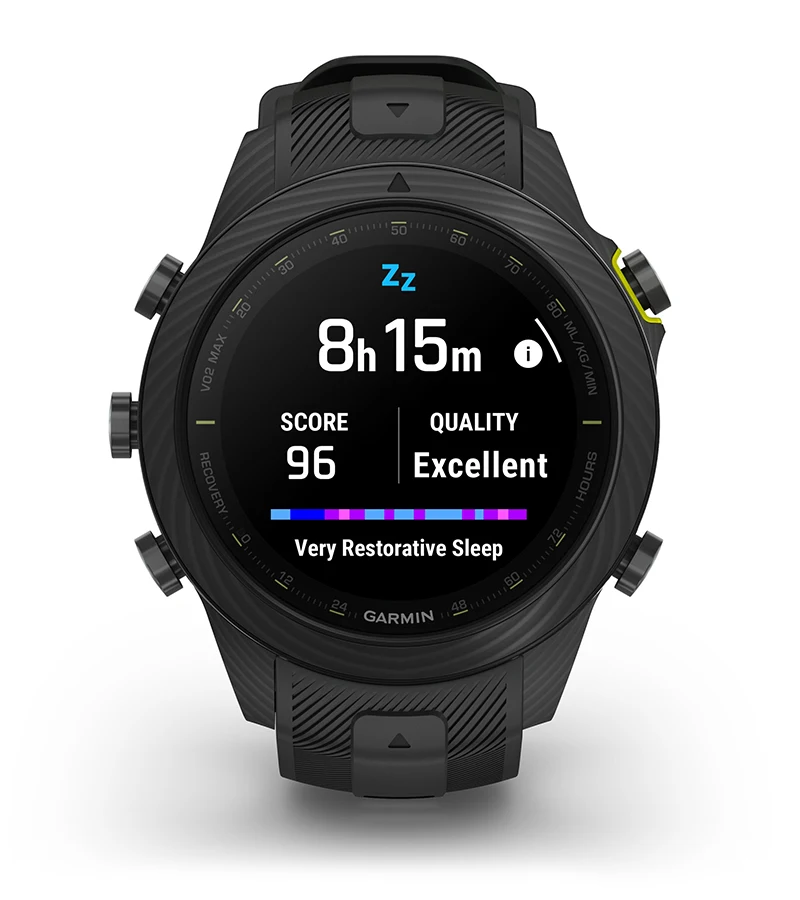 Get a full breakdown of your light, deep and REM sleep stages1. View it all on a dedicated widget that includes your sleep score and insights.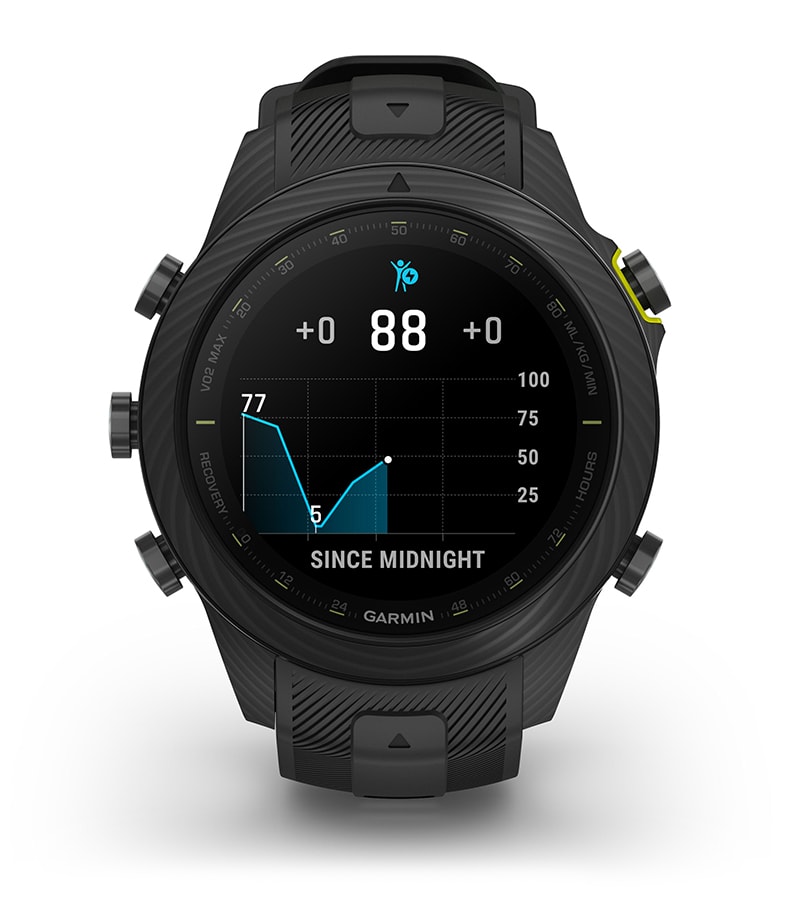 BODY BATTERY ENERGY MONITORING
Optimize your body's energy reserves by using heart rate variability, stress, sleep and other data to gauge when you're ready to be active or when you may need to rest.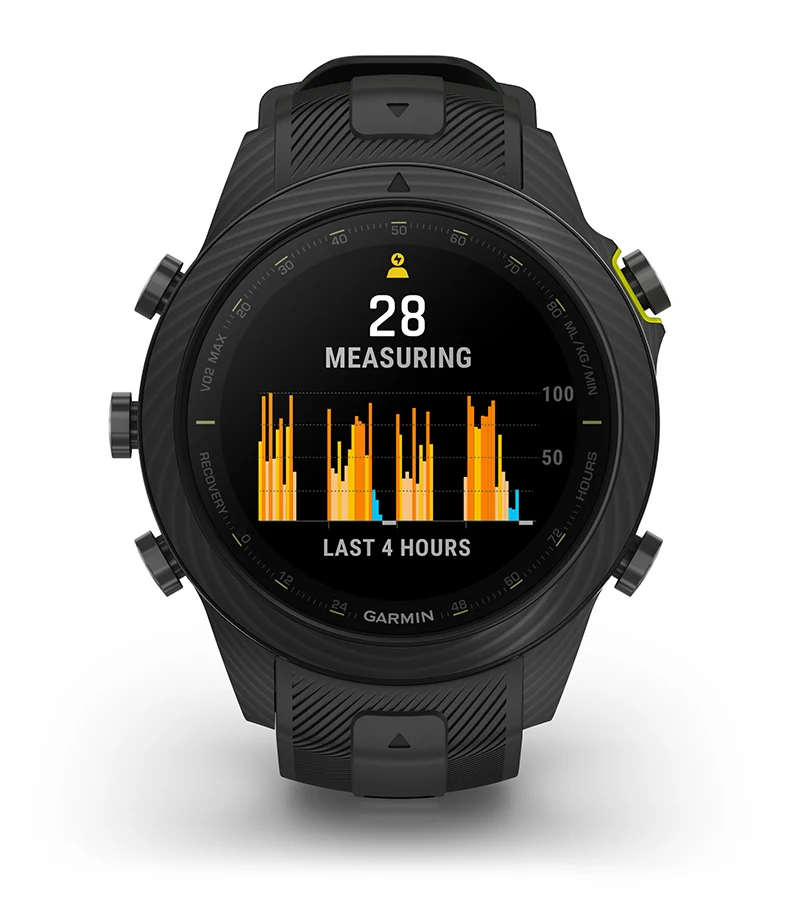 STRESS TRACKING
Heart rate variability is used to calculate your stress level score, so you can see if you're having a calm, balanced or stressful day.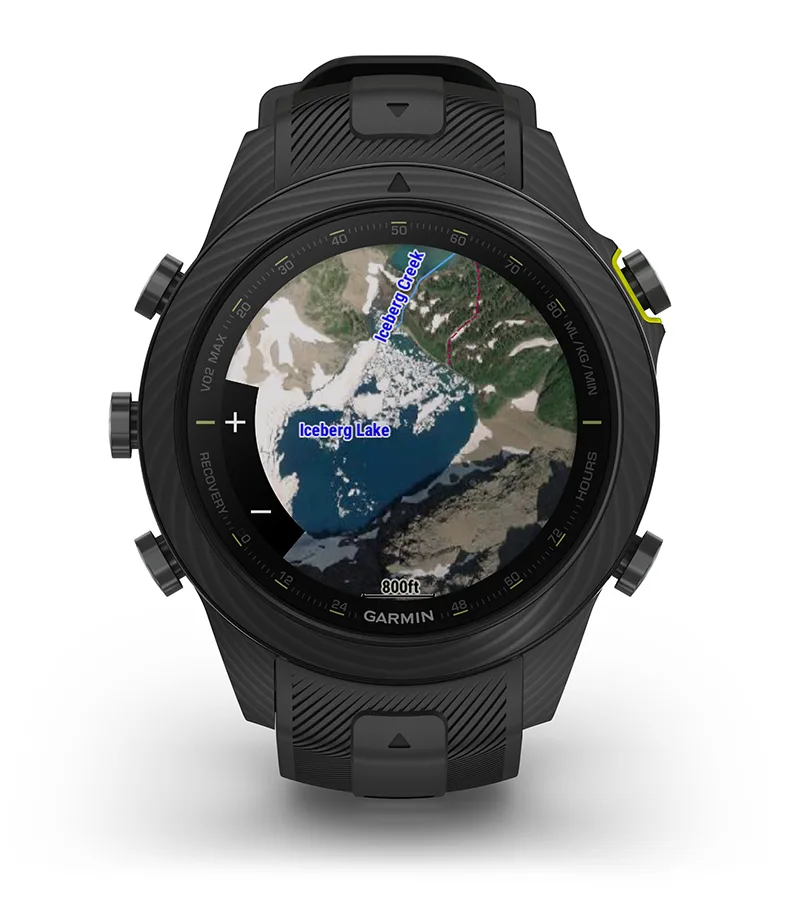 OUTDOOR MAPS+
Subscribe to Outdoor Maps+ for premium mapping content, such as satellite imagery and enhanced topo maps, downloaded directly to your watch.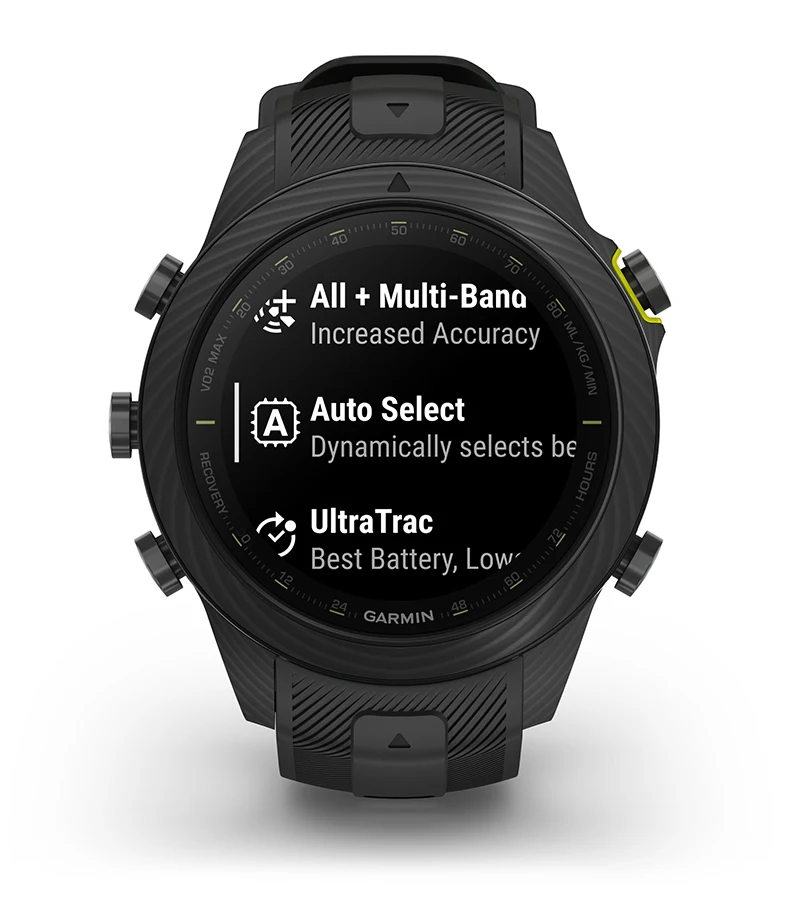 SATIQ TECHNOLOGY
Multi-band GPS with SatIQ technology secures superior positioning accuracy in any environment while also optimizing the device's battery life.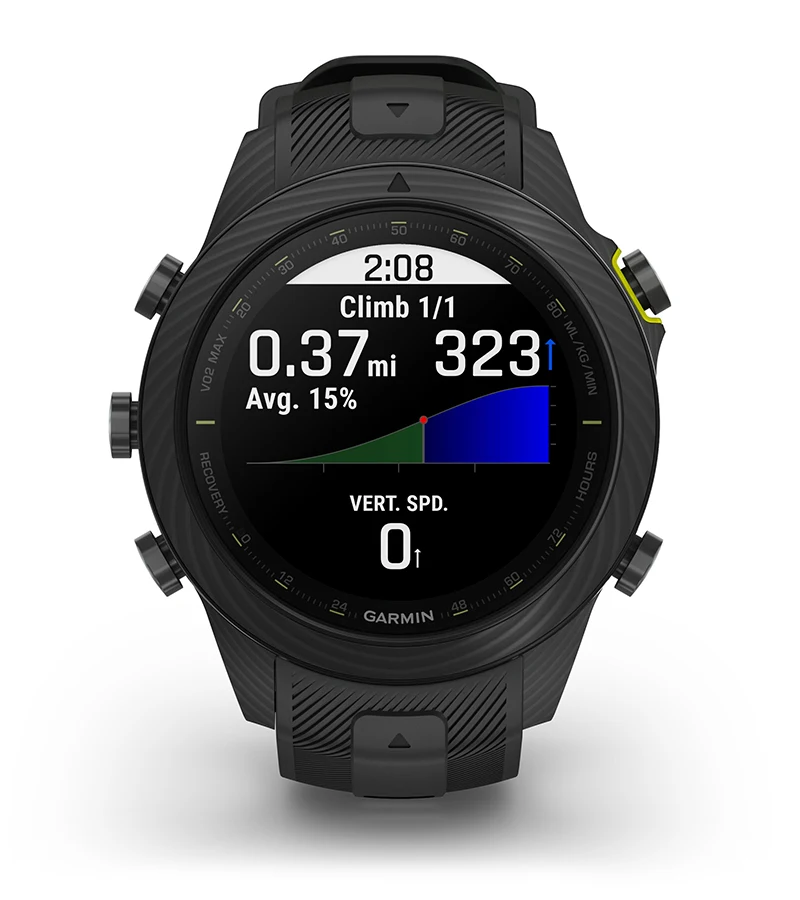 CLIMBPRO FEATURE
Use the ClimbPro ascent planner to see real-time information on your current and upcoming climbs, including gradient, distance and elevation gain.
NEXTFORK MAP GUIDE
Preloaded TopoActive maps with the NextFork map guide make maps more glanceable, helping to navigate trails and see beyond the next turn.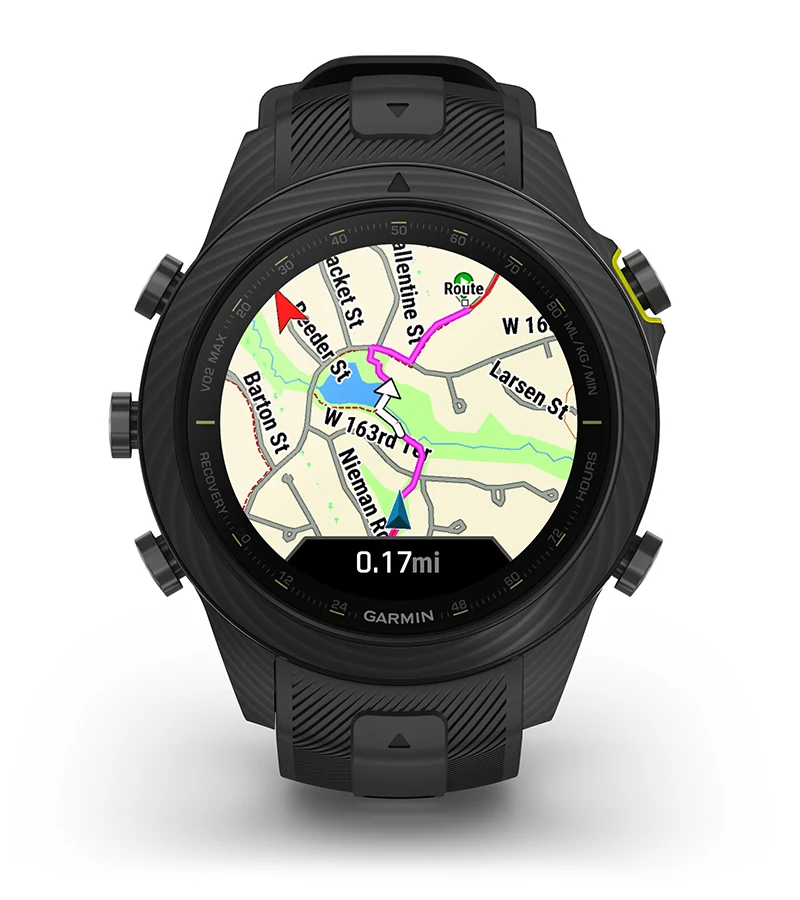 TURN-BY-TURN NAVIGATION
Follow a route or course with help from turn-by-turn directions, which let you know ahead of time when the next turn is coming.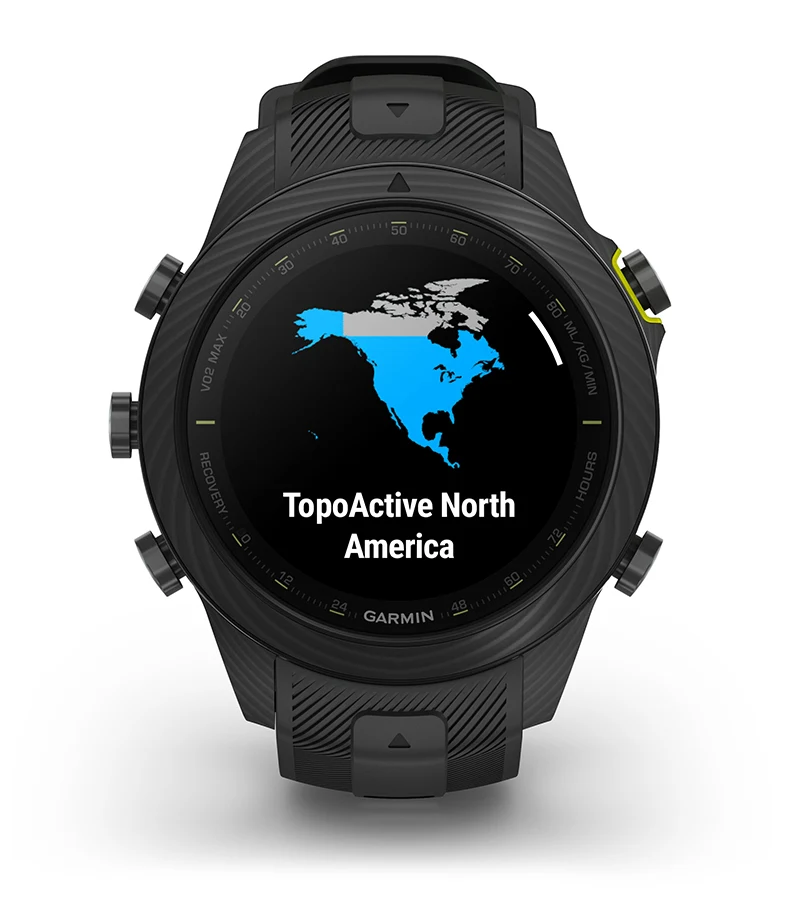 MULTICONTINENT TOPOGRAPHIC MAPS
TopoActive maps for your local region are preloaded to keep your explorations on track. View terrain contours, elevations, summits, parks, coastlines, rivers, lakes and other geographical features. Download additional maps via Wi-Fi connectivity from around the world.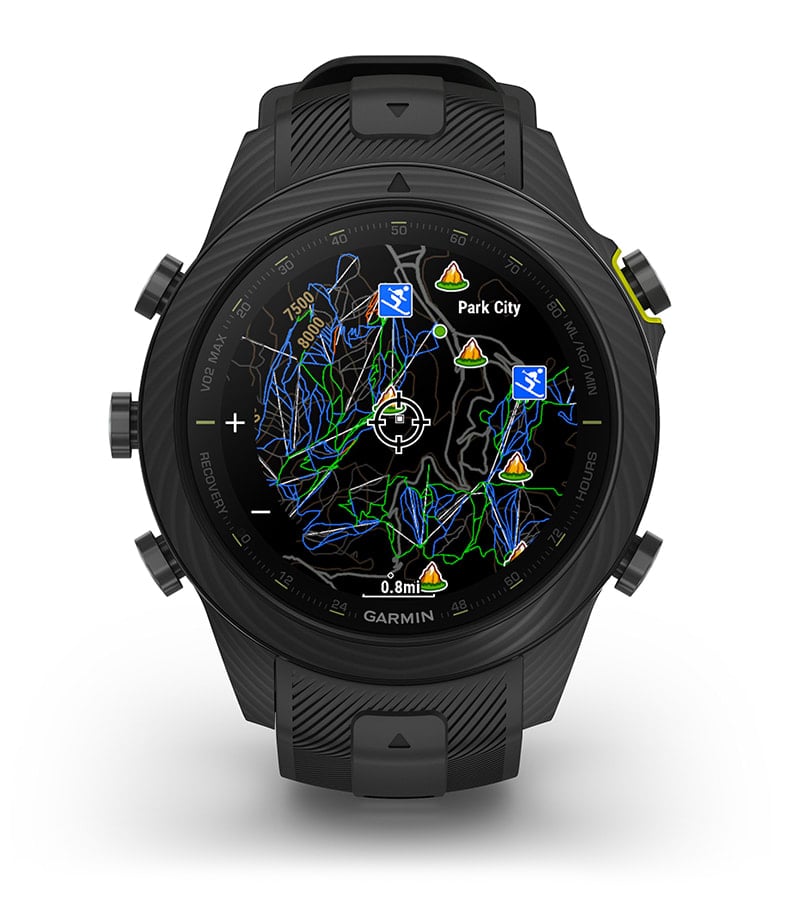 SKIVIEW MAPS
Head outdoors with preloaded topographical maps, and view run names and difficulty ratings for more than 2,000 worldwide ski resorts.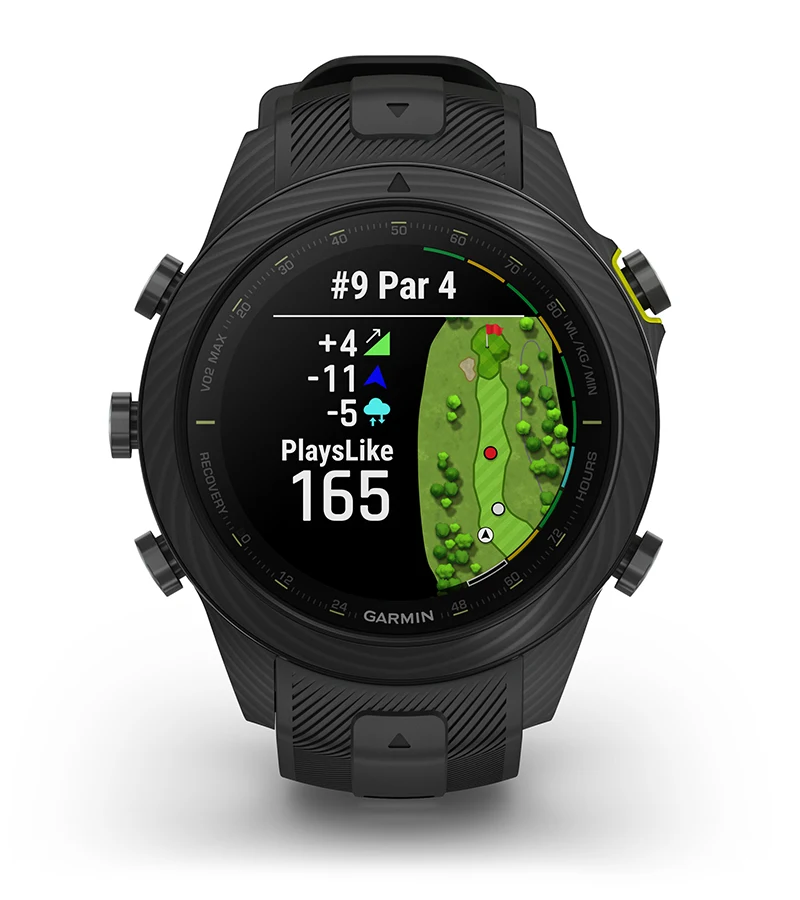 GOLF COURSES
Access full-color CourseView maps for more than 43,000 golf around the world, and get button targeting and the PlaysLike Distance feature.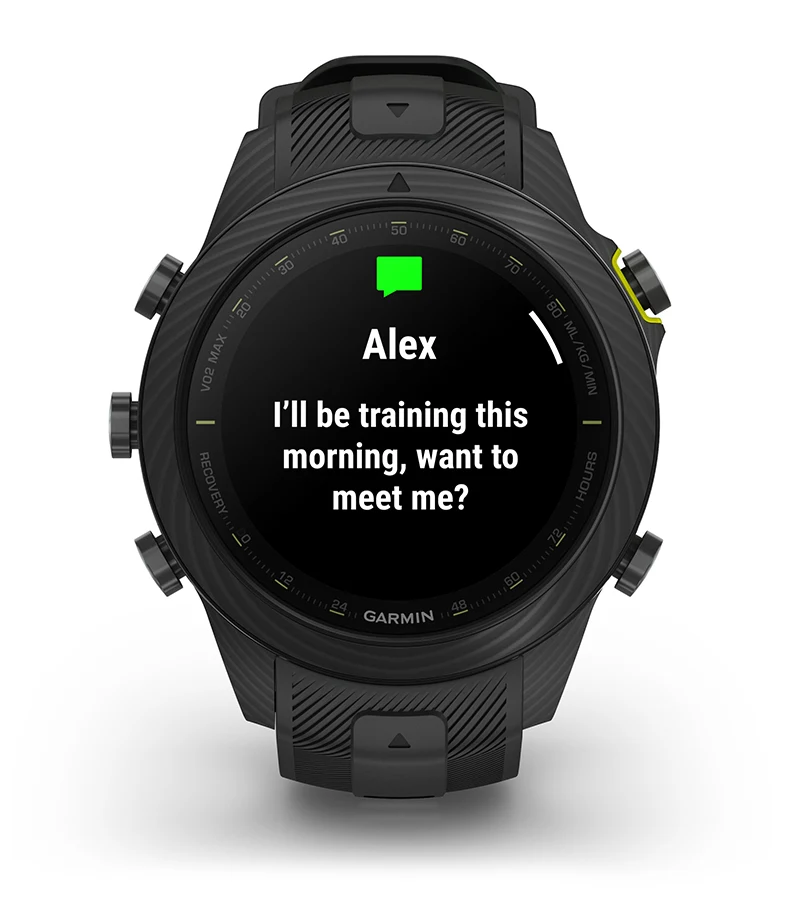 SMART NOTIFICATIONS
Receive emails, texts and alerts right on your watch when paired with your compatible smartphone.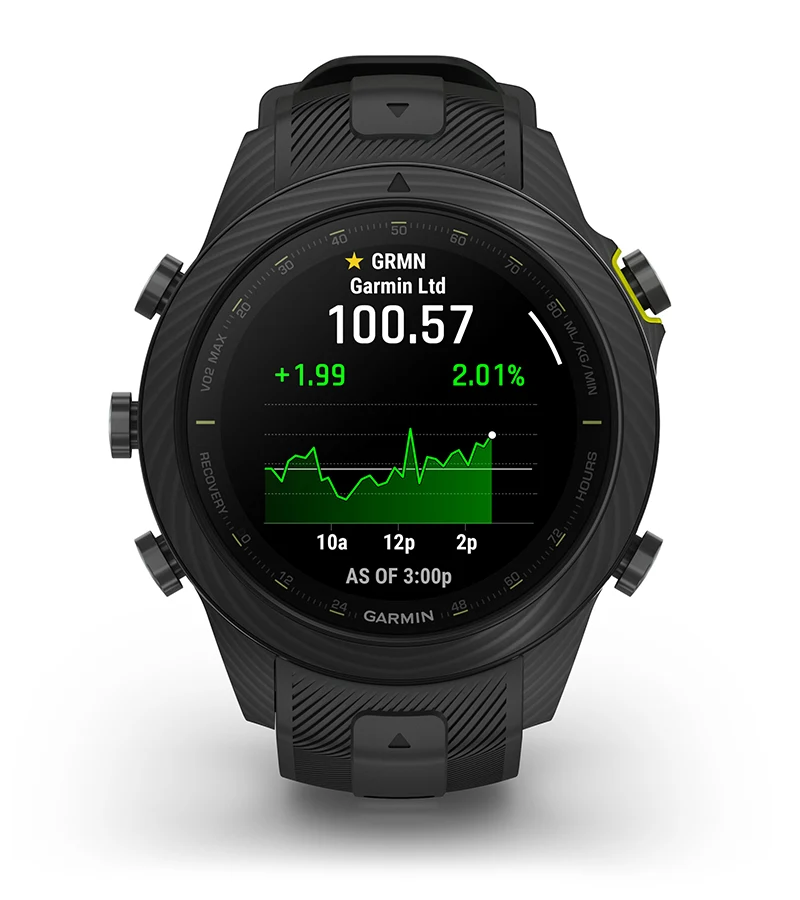 STOCK TRACKER
Keep track of up to 50 of your favorite stocks2 — right from your wrist — with the Stocks app. Easily check your stocks at a glance to monitor their prices and trends throughout the day.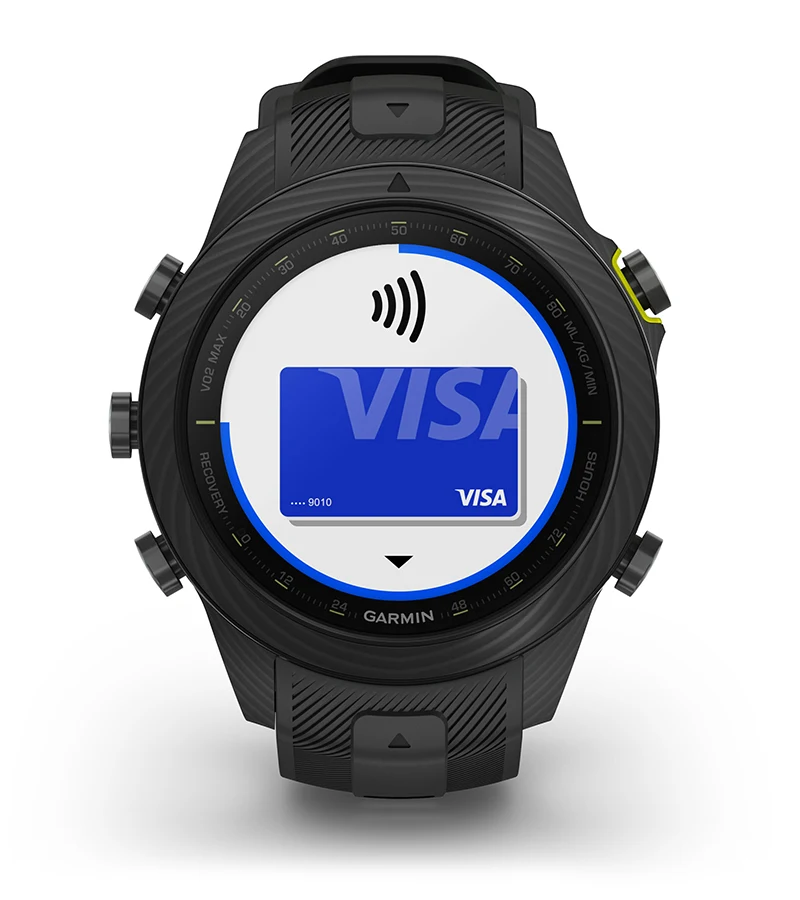 Breeze through checkout lines with Garmin Pay contactless payments through participating providers.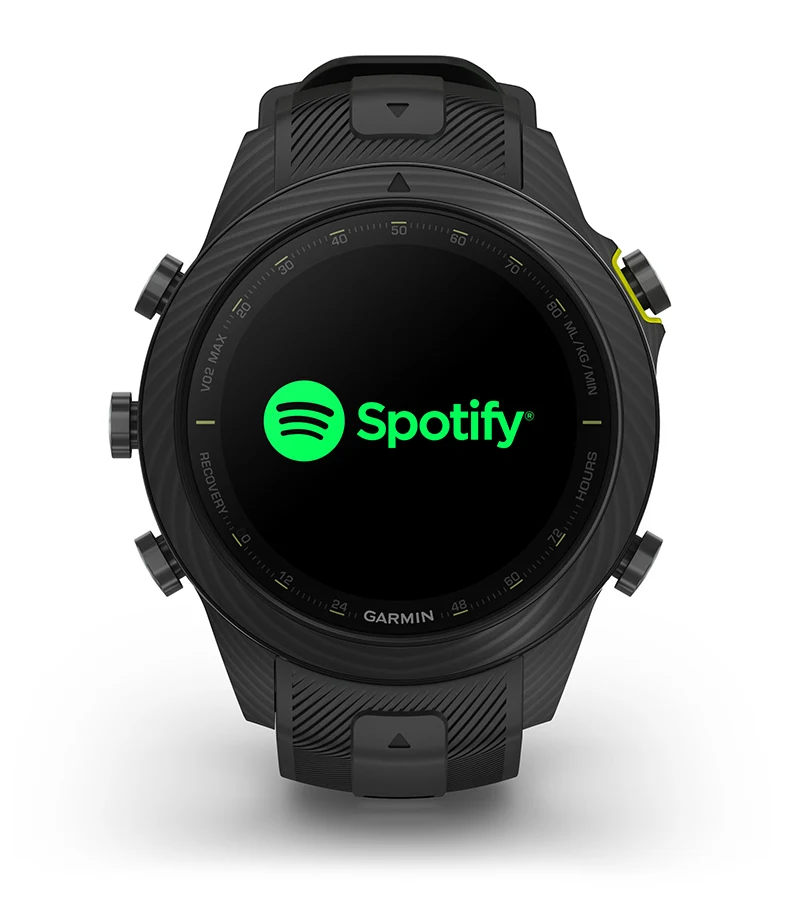 MUSIC APPS
Download songs plus playlists from your Spotify, Deezer or Amazon Music accounts (subscription may be required). Use your wireless headphones for phone-free listening.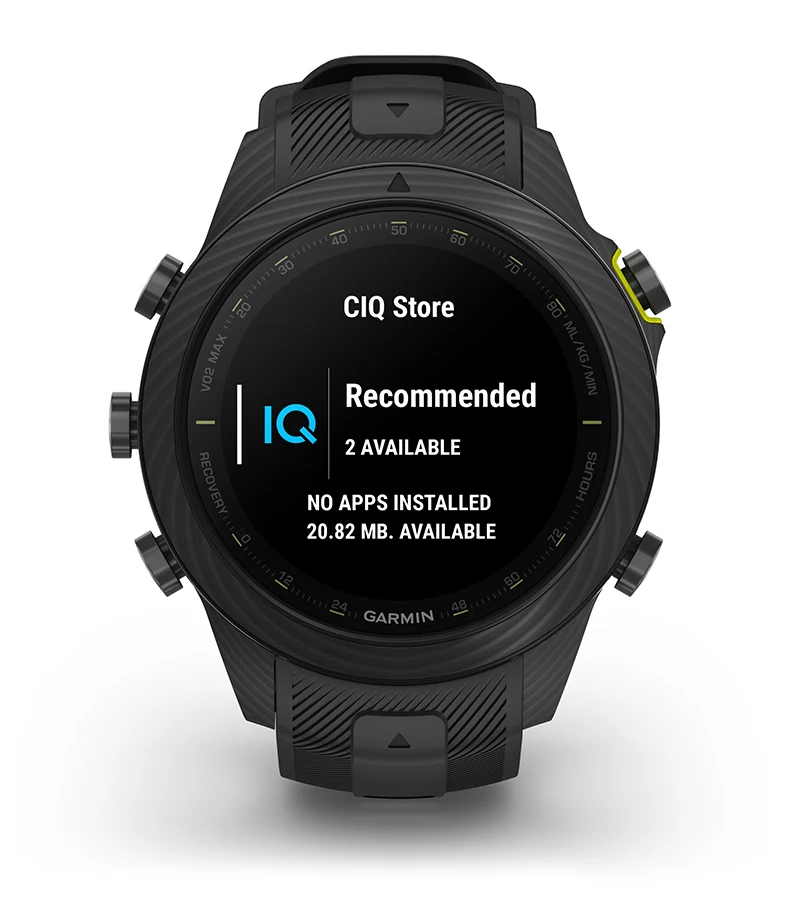 Download custom watch faces, add data fields, and get apps and widgets from the Connect IQ Store when paired with your compatible device.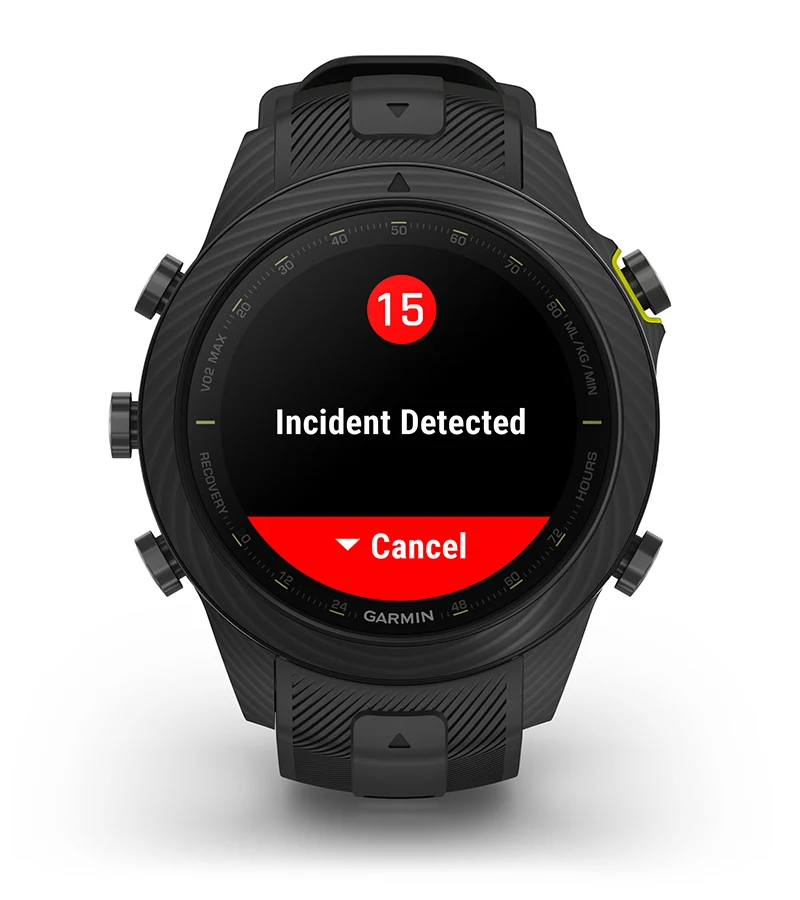 SAFETY AND TRACKING FEATURES
When your watch and phone are paired, a message with your live location can be sent to your contacts manually or — during select outdoor activities — automatically with built-in incident detection5.
Get to know the whole MARQ collection.

Learn More
2
When paired with your compatible smartphone. All data provided on the Garmin Stocks Tracker app is provided for informational purposes only and is not intended for trading or investing purposes. See Twelvedata.com/stocks for stock exchanges covered by the Stocks app.
3
When paired with your compatible smartphone. For safety and tracking feature requirements and limitations, see Garmin.com/safety.
Wi-Fi is a registered trademark of the Wi-Fi Alliance. SPOTIFY and the Spotify logo are among the registered trademarks of Spotify AB. Amazon Music and all related logos are trademarks of Amazon.com, Inc. or its affiliates.