8-inch Keyed Chartplotter/Sonar Combo for Cruising, Sailing or Fishing
Keyed chartplotter/sonar combo with 8-inch color SVGA display
Preloaded worldwide basemap
Built-in Garmin HD-ID™ and supports CHIRP and ClearVü scanning sonar with CHIRP technology
High-sensitivity internal 10 Hz GPS/GLONASS receiver
Supports all Garmin marine radar
The GPSMAP 820xs keyed chartplotter/sonar combo has a 8-inch color SVGA display and comes preloaded with a worldwide basemap. HD-ID, CHIRP and DownVü with CHIRP sonar technology are built-in, allowing you the flexibility to choose from several optional transducers. It also provides media integration and autopilot compatibility, radar support, and NMEA 2000® and wireless connectivity.
Extreme Sonar Capabilities
The built-in sonar capabilities of the GPSMAP 820xs gives you the freedom and flexibility to choose from several optional transducers, including traditional, CHIRP and all-in-one HD-ID/DownVü scanning sonar with CHIRP technology. Add a GCV™ 10 scanning sonar module for both DownVü and SideVü scanning sonar with CHIRP technology (sold separately).
Allow networked combos to share their internal sonar with any other device on the network. GPSMAP 820xs also gives you the flexibility to choose what information is overlaid on the sonar screen. For example, time of day or GPS speed.
It also includes sonar-recording capability that coordinates the timing of the sonar return with your boat's position and saves digital information for playback on a computer using HomePort™ planning software
CHIRP Support
When used with a compatible CHIRP transducer (sold separately), GPSMAP 820xs displays crystal-clear sonar images detailing fishing hot spots, ship wreckage or a diving location. With Garmin CHIRP technology, you get remarkable target separation and resolution at extraordinary depths, and can dial into specific frequencies to target certain species of sport fish. Bottom contours are more visible, even at speed, and signal noise can be suppressed at greater depths to provide a more timely interpretation of what's below for safer navigation and better fishing.
Dynamic Sea Temperature
Set a range for sea temperatures, and it dynamically adjusts to display a color range that can be used to target certain types of fish (Optional GXM™ 52 required).
Super-fast 10 Hz GPS/GLONASS
High-sensitivity internal 10 Hz GPS/GLONASS provides position and 
heading updates 10 times per second. It displays fluid on-screen location and proves to be incredibly accurate when marking waypoints and navigating.
NMEA 2000 Support
This combo allows you to add more capabilities to your boat. It provides NMEA 2000 support so you can see valuable information on your screen for Garmin autopilot, engine data, SiriusXM Weather radar and more.
Radar Support
Add your choice of marine radar, either open array or our new xHD dome radar that pair ease of use with advanced open array features.
Networking
The GPSMAP 820xs offers select networking capabilities that allow you to share features with other compatible GPSMAP units, such as radar, GCV 10 DownVü and SideVü scanning sonar, supplemental maps, and user data, including waypoints, routes and tracks. User data entered into 1 chartplotter can be automatically synced with other chartplotters in a network.
Special Sailing Features
Supported sailing features include laylines, enhanced wind rose, heading and course-over-ground lines, true wind data fields and tide/current/time slider. Gauge displays are designed to provide important need-to-know information at a glance, including true and apparent wind angle, set and drift, true or apparent wind speed, horizontal or vertical graphs, and a data bar with customizable data fields.
GND™ 10 Black Box Interface
The GND 10 black box interface seamlessly integrates Nexus instruments and sensors with the Garmin family. It converts data between the Nexus network and NMEA 2000 to provide trouble-free compatibility between Nexus and Garmin products, including gWind™ and gWind Race wind transducers.
Compatible with gWind Transducers
Garmin gWind, gWind Wireless and gWind Race transducers feature twin-fin technology with 3-bladed propeller. Connect to the NMEA 2000 and compatible Garmin chartplotters via the GND 10 black box bridge.
Garmin Meteor™ Audio System
The Meteor 300 black box brings music to your boat controlled through your compatible chartplotter. Enjoy quick access to AM/FM radio tuner, media and volume plus streaming and control of other music sources via Bluetooth®. Easy plug-and-play NMEA 2000 connections. Includes support for Apple® digital mobile devices (including Lightning), USB, and devices for Android™.
FUSION-Link Entertainment System
Enjoy the ability to control all compatible FUSION-Link-enabled audio systems directly from your compatible chartplotter display.
View and Control Your Device from a Smartphone or Tablet
Garmin Helm™ allows you to view and control your compatible Garmin chartplotter from an iPhone® or iPad® or phone, or phone or tablet using Android — while providing enhanced situational awareness for the mariner. Easily switch between portrait and landscape mode to accommodate mounting preferences. Using your iPhone or iPad, you can even record a movie of your chartplotter screen to share with friends and family. Download from the App Store™ or Google Play™ today.
Get Your Apple® Device Onboard with BlueChart Mobile
With BlueChart Mobile, a free app downloaded from the App Store, you can plan marine routes on your iPad or iPhone then wirelessly transfer them to your boat's compatible networked Garmin chartplotter. Even if you don't have a Garmin chartplotter, you can still take advantage of the tremendous features of BlueChart on your Apple device.
Create your own HD maps
Quickdraw Contours is a free, easy-to-use software feature already installed on your compatible Garmin combo. It instantly creates your own personalized HD fishing maps with 1-foot contours. Tailor them to fit your needs. They are your maps — you own them. Keep the data to yourself, or share it with the Quickdraw Community on Garmin Connect™. There's no special surveying expertise required. You just fish while it creates maps. You don't have to wait around or send your files away like other mapping software requires — your results appear instantly. Use with any of the following sonar transducers:  Garmin Panoptix™, HD-ID™ traditional, CHIRP-enabled, Garmin DownVü™ or NMEA 2000®-compatible depth. Have more than 1 sonar device installed onboard? Quickdraw Contours automatically selects the most capable sonar device to provide the very best results for you!
Multiple Depth Range Shading
Designate up to 10 different depth ranges each with its own color. Makes it easier to view target depths at a glance.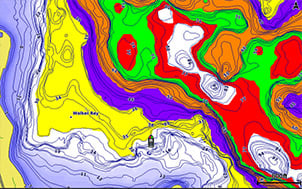 iPhone and iPad are trademarks of Apple Inc., registered in the U.S. and other countries. App Store is a service mark of Apple Inc. Android and Google Play are trademarks of Google Inc.
Wi-Fi is a registered trademark of the Wi-Fi Alliance.