THE APOLLO RA770 STEREO'S PERFECT COMPANION
A perfect companion to Apollo RA770, the Apollo SRX400 zone stereo combines premium design and superior sound in a compact form factor.
Custom audio profiles for each zone on your boat to deliver superior quality audio.
Audio streaming with Wi-Fi technology provides high-quality audio with a faster data transfer rate.
Experience seamless high-quality audio streaming from your music app via the AirPlay 2 software feature.
Enjoy the freedom of musical choice with Fusion PartyBus-Network technology.
Control your music from a compatible multifunction display (MFD), smart device or Garmin watch.
DESIGNED AND ENGINEERED TO TRUE-MARINE™ STANDARDS
Built on the True-Marine design philosophy from Fusion, the Apollo SRX400 stereo has an IPX6 and IPX7 rated water resistant front panel and has been tested to a high level of protection against salt, fog, temperature, vibration and UV.
MODERN DESIGN AND AESTHETICS
Providing uniformity across the helm, the brilliantly designed black front face blends seamlessly into black glass panels, complementing other electronics and MFDs for a tidy, uniform and elegant installation.
Superior sound quality in every environment.
FUSION DIGITAL SIGNAL PROCESSING (DSP)
A technically superior listening experience made simple, Fusion DSP optimizes the audio signal delivered to your Fusion system to produce superior sound quality at all volume levels, in every listening environment.
EASY-TO-INSTALL DSP PROFILES
With a few clicks on your compatible smartphone, setting up your DSP profiles is made simple with the free Fusion-Link™ app. You can set up the preconfigured DSP profiles once and enjoy listening to high-quality audio customized for your ears and the environment.
The world's first marine stereo with Wi-Fi technology.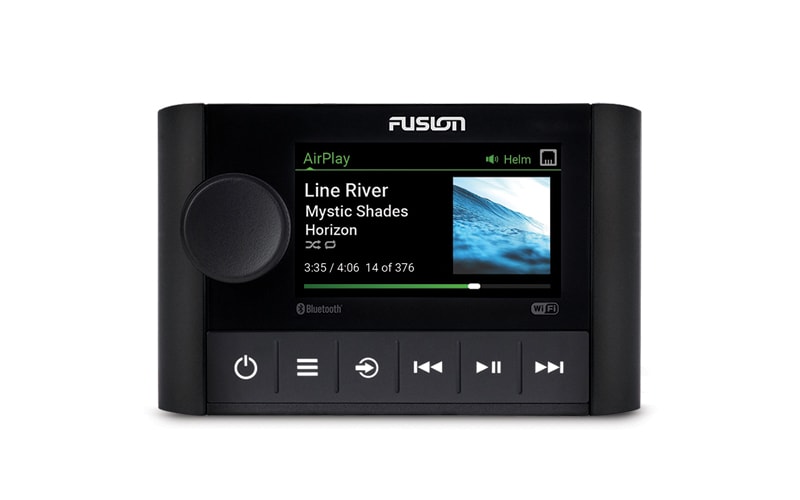 AUDIO STREAMING WITH Wi-Fi
In a world-first for marine stereos, enjoy the clarity and premium quality of audio streaming with Wi-Fi technology, including the convenience of AirPlay 2 from Apple® and universal plug-and-play.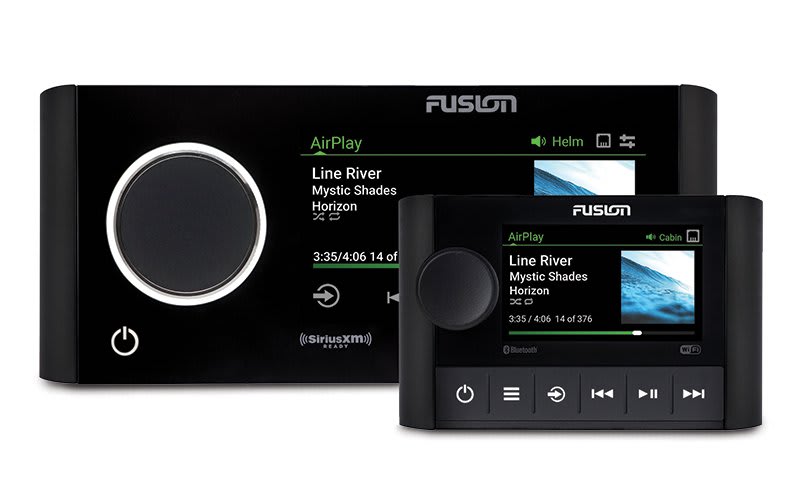 APOLLO RA770 WITH SRX400
Designed with Wi-Fi onboard, the Apollo RA770 and its perfect companion SRX400 can be connected without running any wires – reducing installation time, cost and complexity.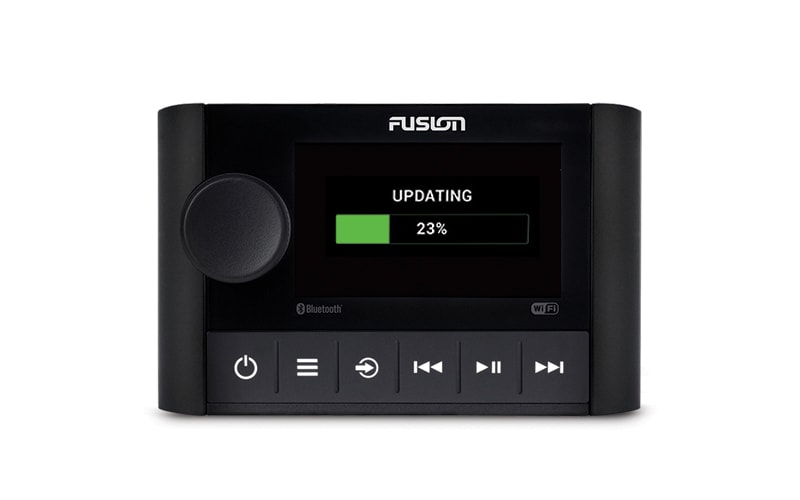 OVER-THE-AIR SOFTWARE UPDATES
Updates are now available from your compatible smartphone or device, via the free Fusion-Link app. The Apollo Series is intelligently simple and easy to keep up to date.
Enjoy freedom of musical choice across the entire boat.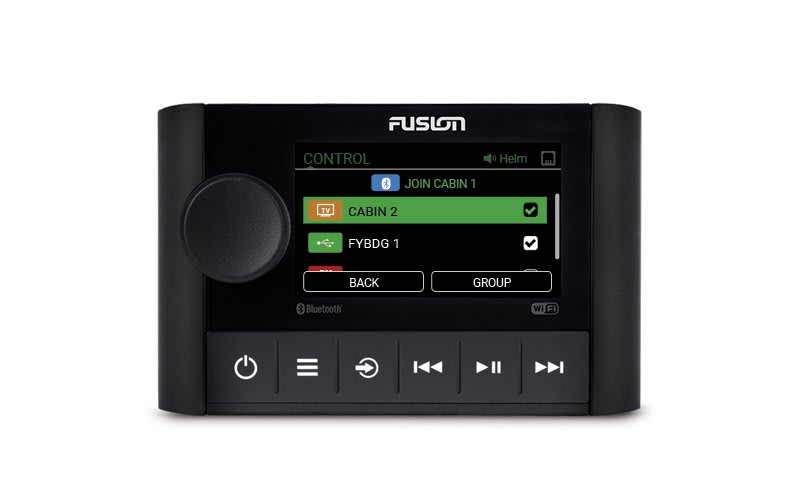 STEREO GROUPING
Grouping allows you to link up multiple Apollo Series stereos connected to the same network and play the same audio source synchronized across all stereos.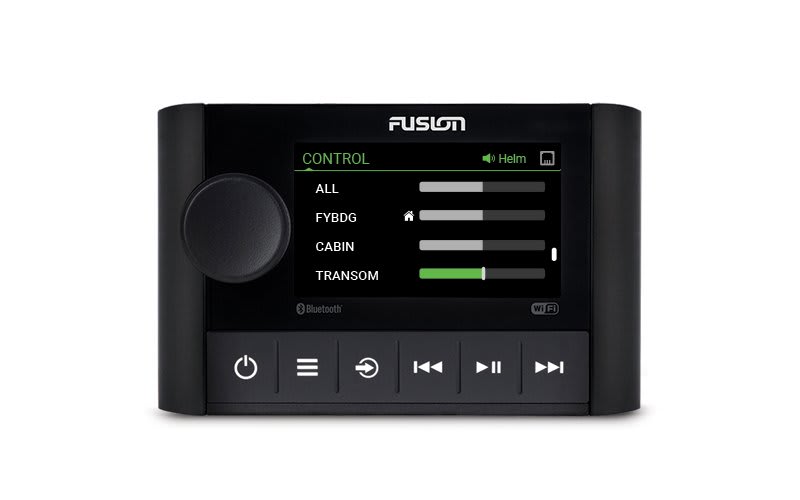 VOLUME CONTROL
Scroll through available zones on your boat, and enjoy independent volume control, or select ALL volume to adjust a group of stereos at once.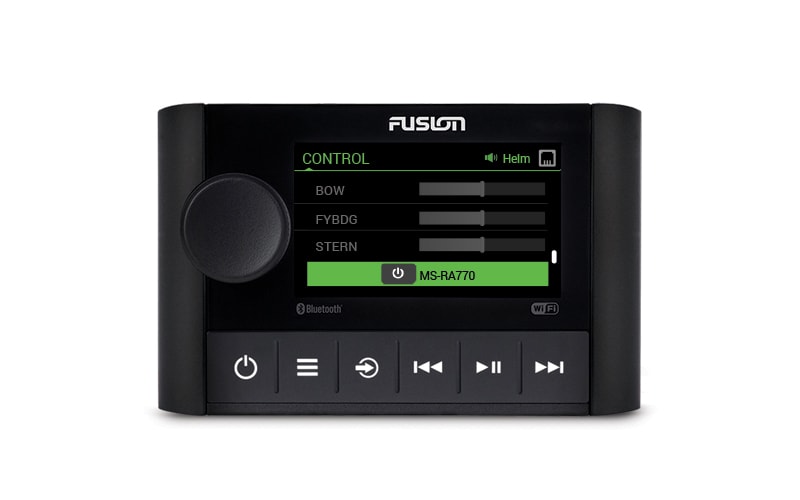 POWER OPTIONS
Power options allow you to turn on any connected Apollo Series stereo in standby mode on the Fusion PartyBus™-Network remotely from another Apollo Series stereo.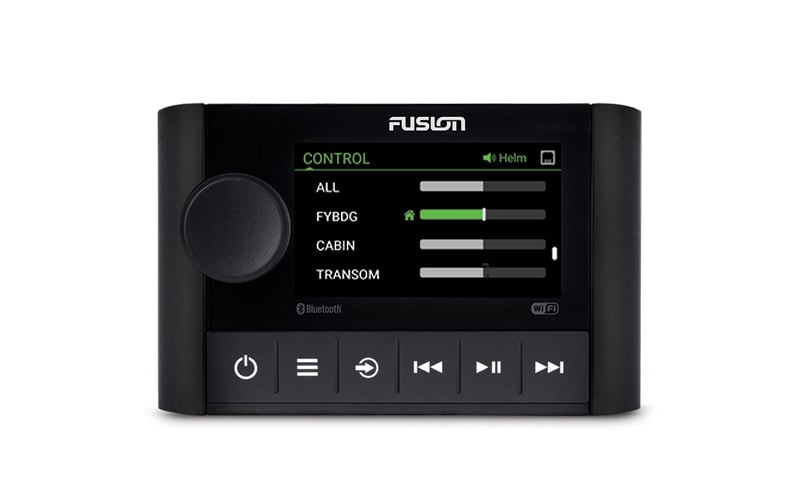 HOME ZONE
Home Zone is the physical zone onboard your boat in which the stereo is installed. After adjusting audio in another zone, the stereo defaults to control of the Home Zone after a period of inactivity.
Enjoy entertainment control in the palm of your hand with the free Fusion-Link App
Control your audio directly from an MFD with Fusion-Link wired technology.
AirPlay and Apple are trademarks of Apple Inc., registered in the U.S. and other countries. Wi-Fi is a registered trademark of the Wi-Fi Alliance.