The Smart Activity Tracker with Wrist-Based Heart Rate and Contactless Payment
The all-new vívosmart HR combines the features of Garmin's Elevate™ wrist heart rate technology with the convenience of EZ-Link contactless payment system. Now you can easily make your payment when you commute on buses or shop at a convenience store simply from your wrist band! vívosmart HR can monitor your heart rate 24/7 without wearing a chest strap. It also counts steps and floors climbed and measures activity intensity.

Wrist-based activity tracker and contactless payment with EZ-Link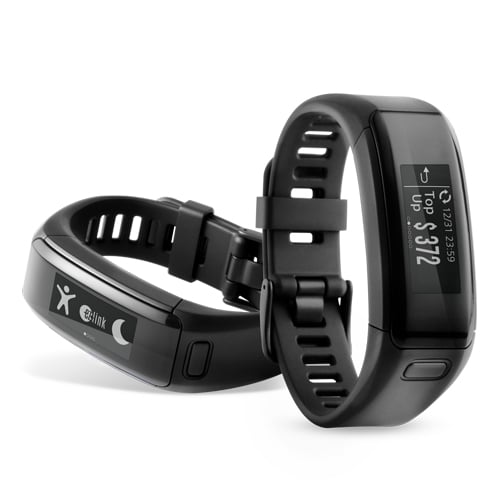 With built-in EZ-Link contactless payments, you can now tap and pay for train and bus rides.
The always-on display allows you to check your stats, balance and transaction records, even under sunlight.
Count steps, distance, calories burnt, stairs climbed and measure activity intensity.
Smart connection to real-time messages transition, telephone calls, emails, calendar and social media.
Reminds you to stay active with move bar and vibration alert.
Tap and Pay
With built-in EZ-Link payments, you can easily pay for transactions with a tap of your wrist. When riding on public transport rides transit vehicles such as the MRT or buses and shopping at a convenience store, you do not need to rush to find your card or change!
We provide you the optimal "convenience." You can directly check your balance, six most recent entries of transaction records, and the latest prepaid payment via vívosmart HR.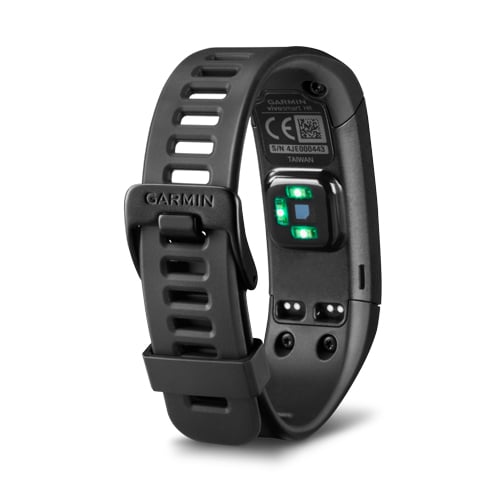 Wrist-based Heart Rate
vívosmart HR smart activity tracker¹ with Elevate™ wrist heart rate technology measures heart rate at the wrist 24/7. That gives you the freedom to work out with no additional heart rate strap needed. Using heart rate, vívosmart HR provides calories burned information and quantifies the intensity of your fitness activities, providing better credit for your efforts. You can even use your vívosmart HR as a heart rate strap on your wrist when paired with other compatible Garmin devices.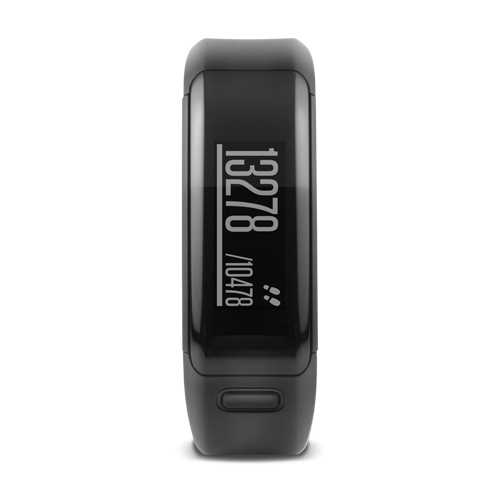 More Than Just Steps
In addition to measuring steps, calories and distance, vívosmart HR measures floors climbed with its integrated barometric altimeter. Whether you're going for a swim or trying out a new boot camp class, it measures your activity intensity with intensity minutes. This feature lets you monitor your progress against activity goals recommended by health organizations such as the American Heart Association, U.S. Centers for Disease Control and Prevention and the World Health Organization.
Smart Capabilities
Stay active and connected with vívosmart HR activity tracker. Each time you receive a notification from your compatible smartphone, it gently vibrates and automatically displays the information. Simply touch and swipe the screen to read more. Other connected features allow you to control music and your VIRB action camera (sold separately) or find your misplaced phone.
Beat Yesterday, Every Day
vívosmart HR learns your current activity level, then assigns an attainable daily step goal. As you meet your milestones, it will adjust your goal for the next day, gradually nudging you toward a healthier lifestyle. Throughout your day, it reminds you to stay active with a move bar and vibration alert if you've been inactive for 1 hour. Go for a short walk to reset the inactivity timer.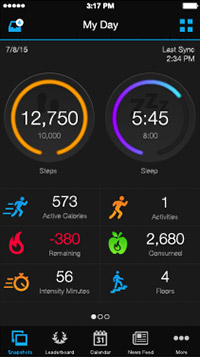 Get Connected
vívosmart HR activity tracker automatically syncs with your smartphone throughout the day to save your stats to our free online community. At Garmin Connect™, you can save, plan and share your activity and beat yesterday in your daily step count. Connect with other users to challenge and compete. For detailed calorie tracking, you can create an account at MyFitnessPal and link it to your Garmin Connect account. This allows you to compare calories consumed to total calories burned, which vívosmart HR records throughout the day.
Note:
*This is the version that supports EZ-Link mobile payments via vívosmart HR. EZ-Link payments are not supported by other versions. Please make your pre-payment at a convenience store or machine.
*For detail information, please refer to the EZ-Link website for the applicable transaction scope ( http://www.ezlink.com.sg/).
¹Activity tracking accuracy
²When paired with a compatible smartphone
Device wear and care
For operation inquiry and repair issue, please contact with local authorized distributor, Convergent System, +65 6337-0177│For transaction issue, please contact with EZ-Link +65-6496-8300