Experience uniquely personal navigation from the elegantly slim nüvi 3790. It features a multi-touch glass display, nüRoute™ technology with myTrends™, voice-activated navigation, 3-D building and terrain view, lane info with junction view, hands-free calling compatibility.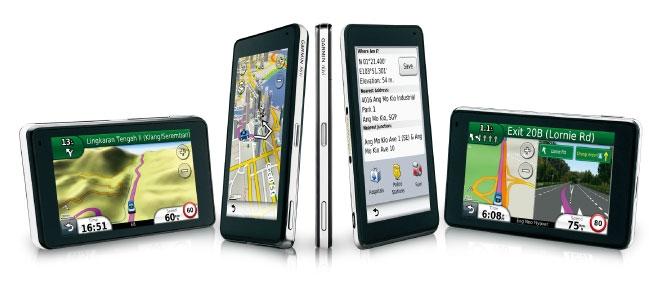 0.89 cm Ultra Slim
The new nüvi is less than 0.89 cm thick, about the same as a standard #2 pencil. It has a full glass 4.3" diagonal multi-touch display. Dual orientation capabilities allow you to use the nüvi 3790 either horizontally or vertically, fitting smartly in your hand when walking. Sleek design also disappears neatly into your pocket or purse. With a rechargeable lithium-ion battery, it's ready to guide you by car or foot.
See Buildings and Terrain in 3D
With 3D Building and Terrain view, you'll see representations of prominent buildings in many cities and map contours at low zoom levels, giving you a realistic perspective of the terrain.
Speak Commands
nüvi 3790 not only tells you where to turn but listens to your spoken commands. With its innovative speech recognition, you can control nüvi with your voice — allowing you to keep both hands on the wheel. Simply wake up nüvi with a customizable voice command and begin speaking menu options that are clearly displayed on the screen. Tell nüvi "Find Address" and speak an address to start navigating.
NOTE: This feature currently supports British English only. It is not available in all languages or regions.
Multi-Touch
nüvi 3790 features pinch-to-zoom. But it also responds to other simple finger taps and drags. In fact, there are 10 convenient multi-touch commands in all. Plus, it has a newly designed glass capacitive touchscreen that is bright, clear and more sensitive.
Experience nüRoute™ Technology with myTrends™
Smart and good-looking, this uniquely personal navigator comes with advanced routing capabilities that include myTrends™. There's no subscription necessary, no added costs, your nüvi 3790 just does it.
With myTrends, when you save your regular destinations in your "Favorites," your nüvi 3790 will, over time, begin to figure out where you're going even without your telling it! It provides time of arrival and relevant traffic information. So whether you're driving to and from work or a regularly scheduled weekly event, your nüvi 3790 will help you get there on time.
Live Traffic Avoidance
Real-time traffic message channel depicts and identifies problems areas on its moving map display now only available in Singapore with NAVTEQ map. Optional GTM35 is required for nüvi 3790.
Know the Lane Before It's Too Late
No more guessing which lane you need to be in to make an upcoming turn. Lane info with junction view guides you to the correct lane for an approaching turn or exit, making unfamiliar intersections and exits easy to navigate. It realistically displays road signs and junctions on your route along with arrows that indicate the proper lane for navigation.
Make Hands-free Calls
For hands-free calling, nüvi 3790 integrates Bluetooth® wireless technology with a built-in microphone and speaker. Just pair it with your compatible Bluetooth phone and talk hands-free through the 3790 while staying focused on the road. Simply dial numbers with its touchscreen keypad to make a call. To answer calls, just tap the screen and speak into its built-in microphone. Enjoy convenient one-touch dialing for contacts and points of interest.
Navigate City Transit
With its enhanced pedestrian navigation capabilities and dual-oriented screen, nüvi 3790 is the perfect travel companion for getting around town. nüvi 3790, is preloaded with detailed maps from NAVTEQ and Malsingmaps, allowing you to travel between Singapore and Malaysia more conveniently. In addition to knowing where to walk, where to catch the bus, underground, tram or other transportation you'll also have access to mass transit schedules and estimated travel time to your destination.
Go Beyond Navigation
Also offered on nüvi 3790 are standard nüvi features that go beyond navigation. For example, ecoRoute — a green feature that calculates a more fuel-efficient route, tracks fuel usage and more. The 3790 includes many travel tools including JPEG picture viewer, world travel clock with time zones, currency converter, measurement converter, calculator and more. With photo navigation, you can download pictures from Garmin Connect™ Photos and navigate to them. With its "Where Am I?" emergency locator, you always know your location. Simply tap the screen to get your exact latitude and longitude coordinates, the nearest address and intersection, and the closest hospitals, police stations and fuel stations. The 3790 features Garmin Lock™, an anti-theft feature, and is compatible with our free Garmin Garage where you can download custom voices and vehicles. Enhance your travel experience with optional plug-in microSD™ cards.

Garmin nuvi 3790 functionality Singapore/ Malaysia version