Garmin Fishfinder 350C is an all-rounder and with reasonable price tag fish finder. Fishfinder 350C scans water with 300 watts (RMS) power and extra-sensitive Garmin HD-ID™ target tracking technology. A dual-beam transducer optimizes performance for deep or shallow water, offering wide-angle (up to 120°) coverage to target fish beyond the sides of your boat and the ability to scan bottom profiles down to 1,500 feet.
5" sunlight-readable WQVGA display
Fishfinder 350C comes with a high resolution (272 x 480 pixels), full colors (256 colors), and Sunlight-Readable 5" WQVGA display. Its sharp color helps you never lose any fish.
Dedicated button for most common used function
Benefit for the professional fishermen like you, Fishfinder 350C features with dedicated button on its right side for you to quickly adjust the setting you need for "Gain", "Range", and "Zoom" function.
Up-and-down split screen
Putting its 5" WQVGA display vertically, Garmin offers you an intuitive comparison when using the "Split Screen" on Zoom or Dual Frequency page.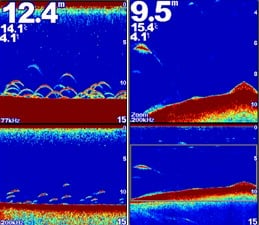 Quick installation mount
Are you worried about your Fish Finder being stolen? Easily remove Fishfinder 350C from mount and take the device with you off boat. The Fishfinder 350C is one of the most intuitive fishfinders in the market. Installation takes only a few minutes with using the tilt/swivel mount and versatile transom/trolling motor-mount transducer included in the box.