Revamped. Restyled. Rejuvenated. For Real.
Get digital insights¹ tailored to your stats and habits, like cues to move and healthy tips
Prep for 5K race day with Garmin Coach free training plans, which provide expert coaching and adapt based on your performance
Enhanced graphics with options to customize the stats you see
Connect with other users for extra motivation
Compete in weekly challenges
Wirelessly upload activities
You ready for this? The latest and greatest Garmin Connect Mobile looks good and acts fast. It's re-designed to help you focus more clearly on your fitness and healthy living goals. And because we're all about helping you beat yesterday, we've added digital Insights¹. These include cues to move if you're not on track to meet your step goal — or shoutouts when you do hit those milestones. Plus, you'll get healthy tips from experts that become like virtual coaches.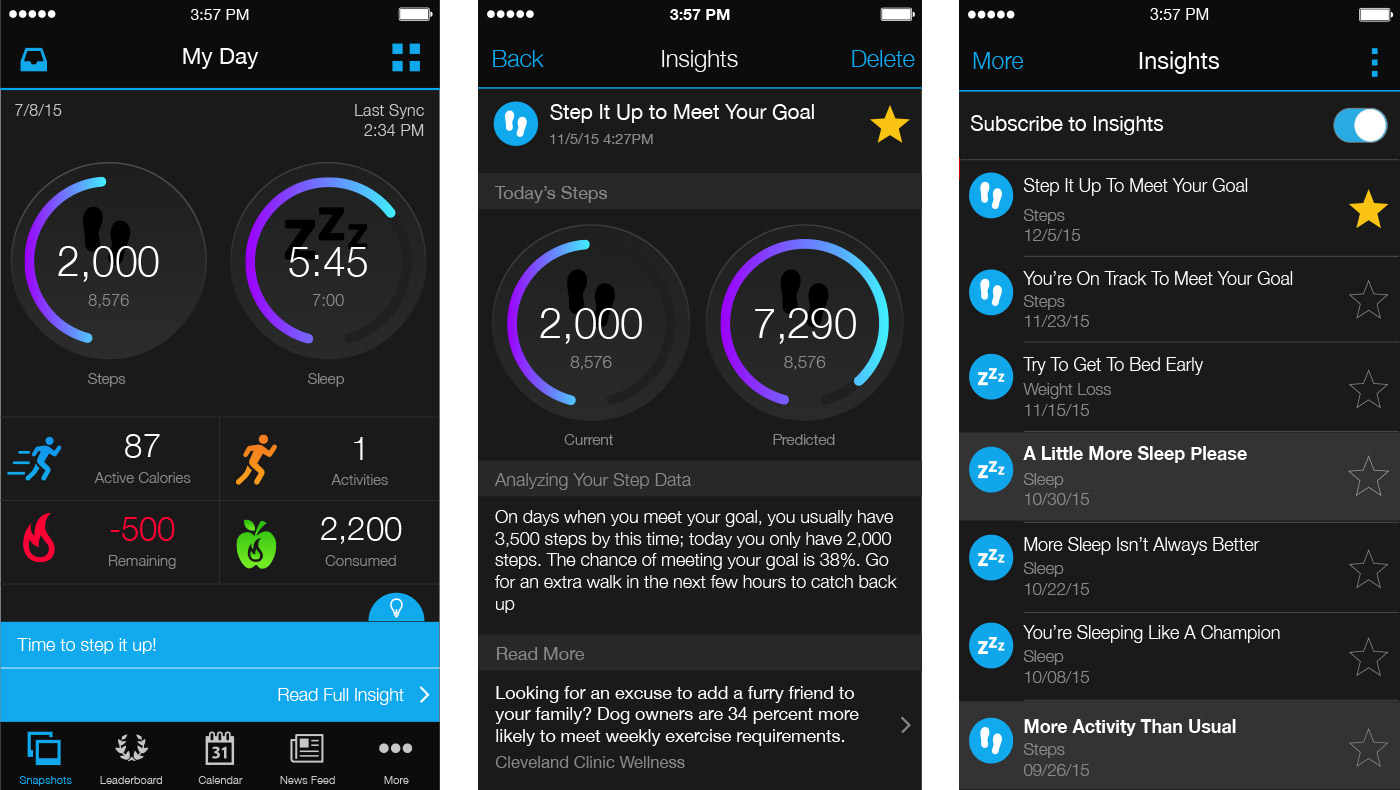 It's Simple. Period.
Concise, easy-to-understand charts, graphs, maps and more let you view your activities, track progress toward goals and wirelessly upload and share relevant data directly with the online Garmin Connect network. So, you can compete with friends or family members on weekly step or running challenges — and compare your results in real time, using the LiveTrack feature. You can also use the app's wireless connectivity links to receive current weather conditions, forecasts and smart notifications right on your compatible Garmin device.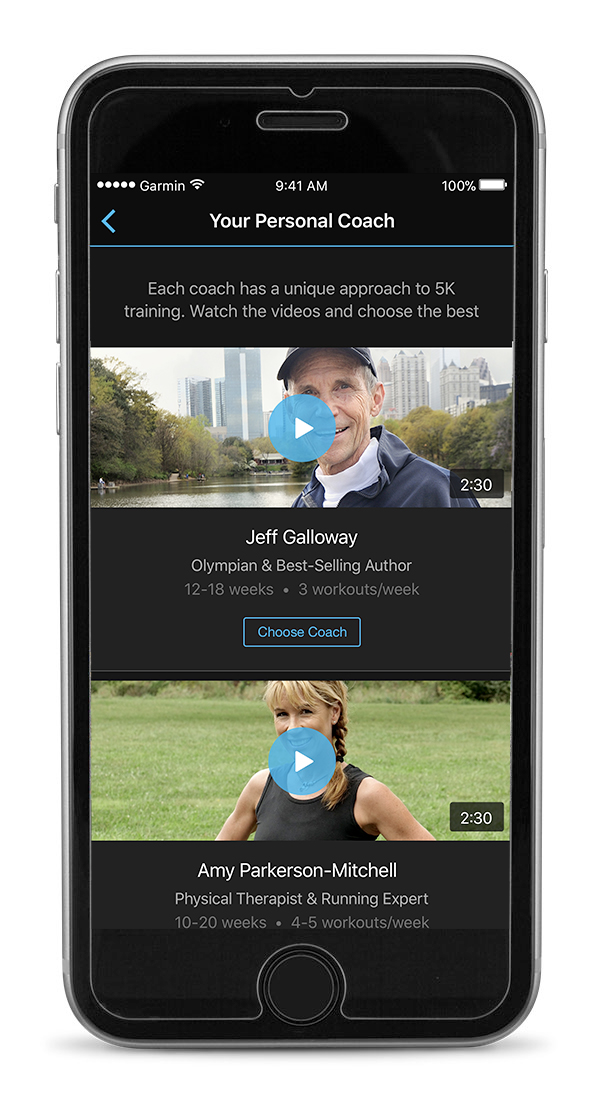 Get a Personal Trainer, Right on Your Wrist
With Garmin Coach, your personal 5K running coach is always on hand. Choose your expert coach and your 5K race goal. Then receive a free training plan and step-by-step guidance. The workouts sync to your compatible Garmin watch² and adapt based on your performance in the plan.
See and Share from Anywhere
If you work out or compete with a Forerunner® running watch, Edge® cycling computer or fēnix® outdoor watch, all of the Garmin Connect data you rely on is right in the app. Examine the maps and stats from your individual activities or analyze your progress with charts and graphs. You can also upload data from any vívofit® series activity tracker or vívoactive® smartwatch to track your progress while you're on the go. You'll be able to keep tabs on your total steps and progress toward your goal, how long you've been sedentary, sleep patterns and more. You can even use the app with your Garmin golf watch to track your score or access previous scorecards to see what you shot the last time you played a specific hole.
Ready. Set. Go connect your device.
Garmin Connect Mobile unlocks the full potential of connected fitness devices. Upload data from your compatible device directly to Garmin Connect. Send courses and workouts right to your device. Let your friends and family follow your training and fitness activities in real time using the LiveTrack feature.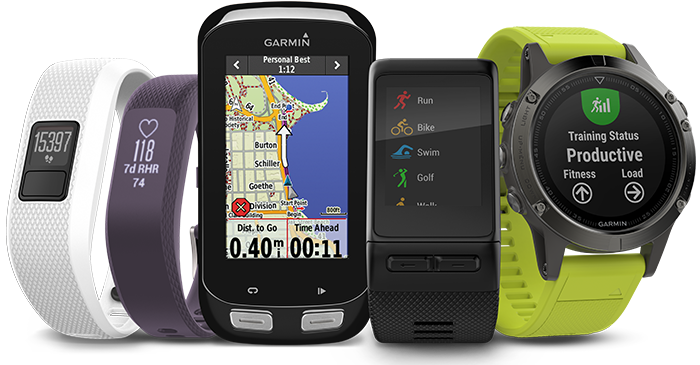 Smile. You've got Bluetooth.
With Garmin Connect Mobile, it's easy to pair many of the latest Garmin fitness/wellness devices with your compatible smartphone for access to a wide range of Bluetooth® wireless connectivity features, including weather alerts, call and text notifications, automatic data uploads for online sharing and much more. These Garmin mobile link features provide the go-anywhere access you need to help maintain a seamless connection between your workouts and your life.
Transfer Data from Your Old Tracker
If you're just making the switch to a Garmin activity tracker – good news. We now have a way to fit a bit of your old tracker's data right into your new one. You took all those steps, so bring them with you! It's all done right through Garmin Connect.
¹Available to Garmin Connect customers who are using activity tracking features.
² Compatible with vívoactive® 3, vívoactive® 3 Music, Forerunner® 645, Forerunner 645 Music and Forerunner 935
The Bluetooth® word mark is owned by Bluetooth SIG, Inc.