There are 2 ways to get Earthmate. The navigation app is included with the purchase of an inReach® satellite communicator, or you can buy an annual subscription to use the app as a standalone product. If you have already activated your inReach, you can skip to step 3 and login in to Earthmate using your inReach account..
1. Purchase the standalone Earthmate Navigation App.
2. Under "Create an Account," click Earthmate and then follow the steps to enter your payment information and open an account.
3. Download Earthmate from the App Store®, Google Play™ Store or Amazon® Appstore.
4. Open the App and login with your account.
Scout, Map, Track, Explore from Your Smart Device
Complete GPS navigation solution; works as a standalone mobile app or can be paired with inReach satellite communicator for global satellite connectivity
Cell service not required to navigate; maps are downloaded to your device for access anywhere, anytime
Includes North America TOPO maps, public lands, aerial imagery and U.S. NOAA charts; unlimited maps and cloud storage
Maximize adventures with online trip planning, location sharing and tracking, high-detail trip logging, waypoint dropping and more
Choose activity-specific Hunt Edition or Outdoor mobile app versions; designed for Apple® (Ver 7.0 and later) and Android™ (Ver 4.1 and later) devices

Now you can bring the best in outdoor GPS navigation and mapping to your smartphone or tablet, thanks to Earthmate mobile app technology. This versatile app lets you download detailed maps directly to your mobile device. Using your device's GPS capabilities, Earthmate also allows you to determine your current location, navigate a route or find a waypoint, track your progress, set and manage waypoints and more. You can view useful trip statistics such as elevation, time en route, max speed and distance. You can save all your trip maps and data with unlimited cloud storage. And you can even use the built-in compass to get your bearings for backcountry hikes, hunts or other adventures.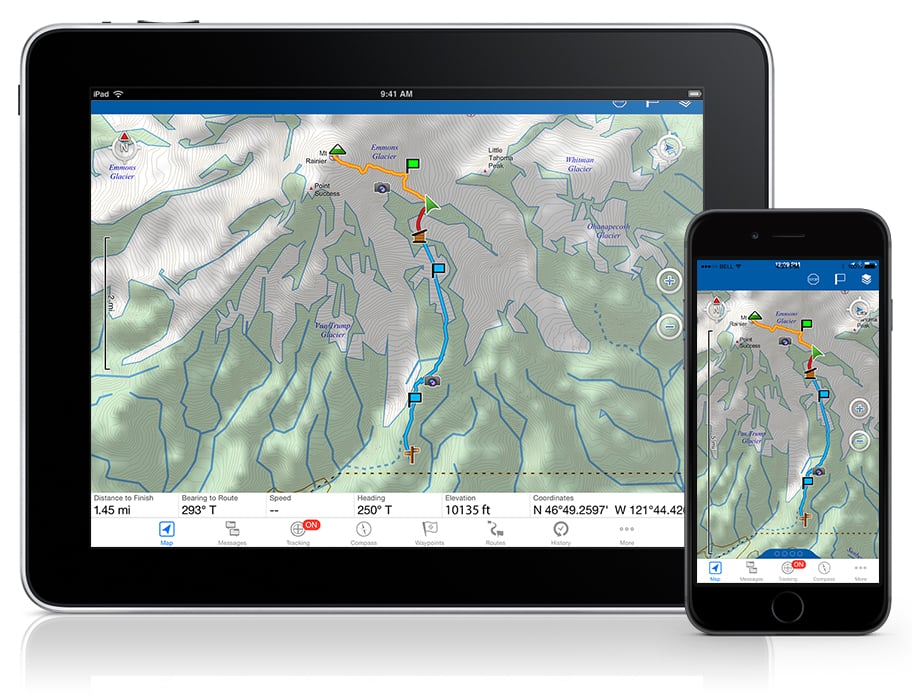 Outdoor Navigation Made Simple
An annual subscription to Earthmate Outdoor or Hunt Edition gives you easy access to all the app features on your mobile device as well as additional features online. Cloud-based tools let you plan your adventures and then wirelessly sync them to your smartphone or tablet. The Earthmate app also lets you create your own MapShare webpage that friends and family can access online to track your progress and share your adventure.

Get Even More with Earthmate Hunt
Earthmate Hunt comes complete with unlimited access to cacheable hunting maps, topographic data, private and public land ownership, USGS quads, color aerial imagery, wildlife and game management units, online hunt planning and more. During your hunt, you can record high-detail GPS track logs — and use the "bread crumb trail" feature to find your way back to camp or save for reference on future hunts.
After the first year, your Earthmate Outdoor or Earthmate Hunt subscription will be automatically renewed unless you cancel.
Pair with an inReach Device for More Off-grid Capability
Either standalone edition of Earthmate provides a robust navigation platform for your smartphone or tablet. What's more, Earthmate is included with your purchase of any inReach satellite communicator. By pairing your mobile device (via Bluetooth®) with inReach, the Earthmate app turns your mobile device into a true off-the-grid satellite companion. You can trigger an SOS anywhere in the world and communicate back and forth with the 24/7 rescue monitoring center. Plus, when you're beyond cellphone coverage range, you can still continue to use your smartphone with Bluetooth-paired inReach to send 2-way text messages — and even link to your social media accounts — from anywhere on the planet. The Earthmate app syncs with the address book on your mobile device to make staying in touch even easier.
Compatibility
Earthmate is available for download from the App Store®, Google Play™ Store or Amazon® Appstore.
App Store and Apple are trademarks of Apple Inc. Android and Google Play Store are trademarks of Google Inc. The Bluetooth® word mark and logos are registered trademarks owned by Bluetooth SIG, Inc. and any use of such marks by Garmin is under license.