www.garmin.com.sg is Garmin's official website for Singapore & Malaysia. Some parallel importers have set up websites (eg. www.garmin-singapore.com) and claimed that they are providing Garmin Singapore sales & services, which has misled end users. Garmin will reserve the right to take legal actions against the claims. And Garmin has long been promoting localized models in Singapore and Malaysia. Users with localized models can enjoy free updates for software, junction view images, and 3-D buildings only on Garmin's official website: www.garmin.com.sg.
Please make sure that you are buying localized models from Garmin's authorized distributors/dealers and check Garmin's official website for the latest updates available to localized models.
If you have problems identifying the product version, you may refer to the bottom of our package. The product version is usually after the model name. Or call Garmin at +886-2-2642-9199 ext.2 or email Garmin at marketing.asia@garmin.com for more support.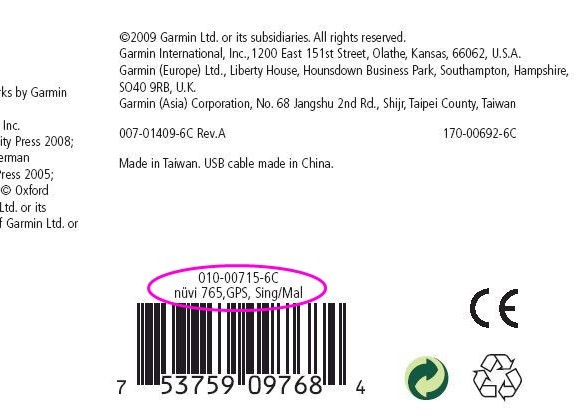 nüvi 765, GPS, Sing/Mal stands for nüvi 765 Singapore and Malaysia version.
Go to 【Pressroom List】