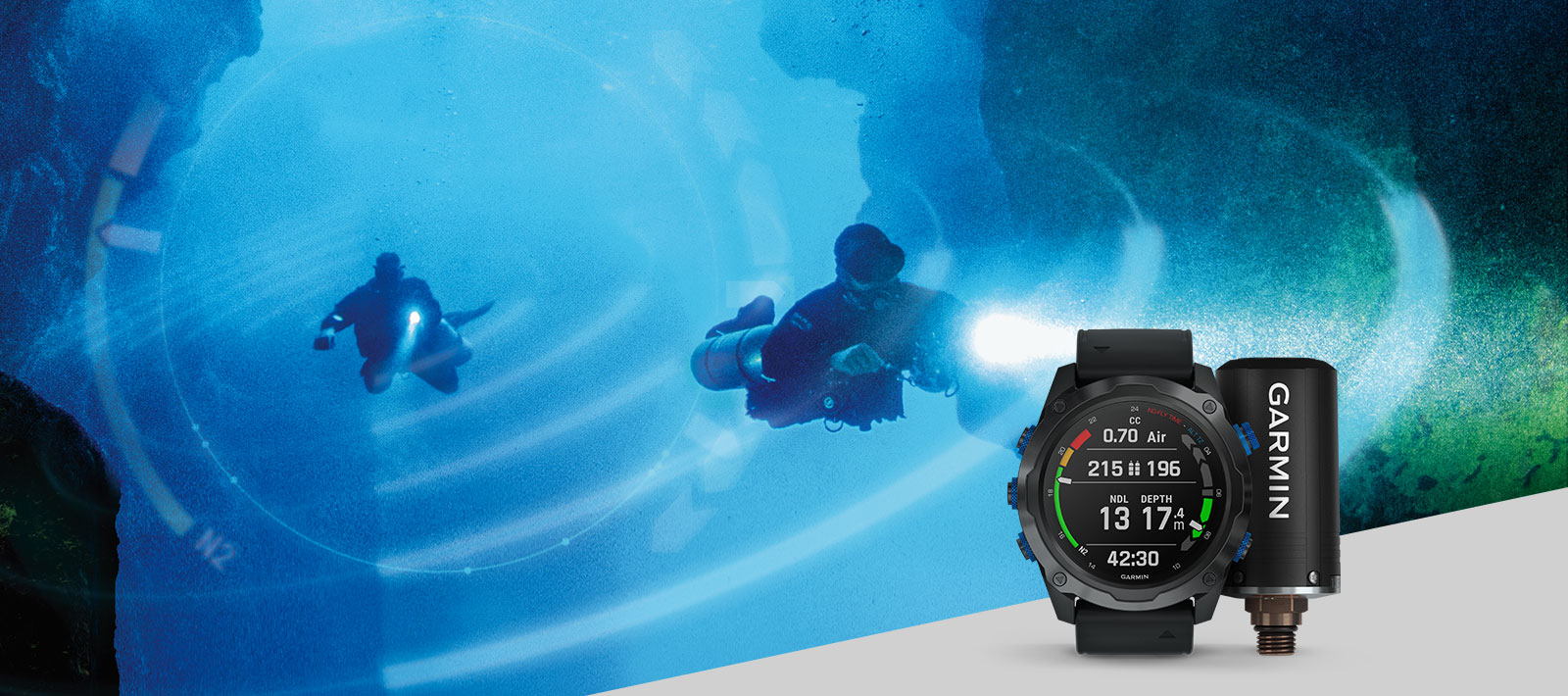 The new watch-style dive computers and air transmitter are the first consumer dive equipment in the market to utilize sonar technology, adding to Garmin's growing lineup of innovative products helping divers above and below the water.
"With premium features for both underwater and topside adventures, along with advanced air integration, the Descent Mk2i and Descent T1 transmitters are essential equipment for divers," said Mr. Scoppen Lin, Director, Garmin Asia. "Leveraging our expertise in marine sonar equipment, we were able to develop our own SubWave sonar technology that sets the standard for extended range and reliability for the diving community."
Cutting edge dive technology for a comprehensive dive ecosystem
The Descent Mk2i dive computer can simultaneously monitor tank pressure from up to five paired Descent T1 transmitters (each sold separately) via the SubWave sonar data network, so that divers can view tank pressure, air time remaining, gas consumption rate and monitor other divers or additional tanks within a 10 meter range making the Descent Mk2i and Descent T1 an ideal solution for instructors.
Dives are automatically logged in the new free Garmin Dive app7, which provides a detailed analysis for each dive activity, including max depth, bottom time and a map of surface entry and exit points8. Use the explore feature in the app to search through more than 2,700 dives sites from around the world. The watches are also preloaded with hundreds of dive sites so you can view wreck and reef locations and tide data to find the best spots to explore, storing up to 200 dives on your wrist and review dives on the Garmin Dive app.
When paired with a compatible Garmin inReach satellite communicator9 at the surface, users can send and receive messages quickly from the Descent Mk2 or Mk2i watch and when necessary, trigger an interactive SOS8. Keep the device protected by using the new inReach Mini Dive Case (sold separately) and have peace-of-mind whenever you surface.
Your reliable buddy underwater and above water
The Descent Mk2 Series support up to six dive modes as well as multi-GNSS support and ABC sensors for single and multiple gas dives (including nitrox, trimix and 100% O2), gauge, apnea, apnea hunt and closed circuit rebreather. The watches feature an underwater 3-axis compass and displays depth, dive time, temperature, NDL/TTS, ascent/descent rates, gas mix, PO2, N2 loading, decompression/safety stop information, time-of-day, and more. This data is all viewed on a crisp 1.4-inch sunlight readable color display, which is 36 percent larger than the Descent Mk1.
On land, the Descent Mk2 and Mk2i double as a premium multisport GPS smartwatch with multi-GNSS support and wrist-based heart rate monitoring2 plus multiple sports profiles including golf, with full-color mapping for over 41,000 courses worldwide. Other smartwatch features include notifications for calls, texts and calendar alerts and more3 right on the wrist, Garmin Pay for contactless payments4, music storage with compatible service support5 and a Pulse Oximeter6 for blood oxygen monitoring.
The Descent Mk2 and Descent Mk2i boast a battery life of up to 16 days in smartwatch mode and up to 80 hours in dive mode. The Descent Mk2i has a battery life of up to 32 hours when paired with a Descent T1. The T1 transmitter is depth rated to 11 ATM10 and has a battery life of up to 110 hours of diving with a user-replaceable CR123 battery.
Pricing and Availability
The Descent Mk2 and Descent Mk2i are available now at Lazada, Shopee and all authorized Garmin dive shops at a suggested retail price of SGD 1,999 and SGD 2,299 respectively. The Descent T1 will be available soon. To learn more, visit Garmin.com.sg/minisite/descent/descent-mk2.
Engineered on the inside for life on the outside, Garmin products have revolutionized the wellness industry. Committed to developing wearables and health measurement tools that help people of all activity levels lead healthier lives, Garmin believes every day is an opportunity to innovate and a chance to beat yesterday. For more information, visit Garmin's virtual pressroom at Garmin.com.sg/news/pressroom/, or follow us at facebook.com/garminSG, instagram.com/garminsg or youtube.com/GarminSingaporeAsia.
1 Requires Descent Mk2i dive computer paired with Descent T1 transmitter (each sold separately)
2 See Garmin.com/ataccuracy
3 When paired with your compatible smartphone; see Garmin.com/ble
4 View current supported country, payment network and issuing bank information at Garmin.com/GarminPay/banks
5 May require premium subscription with a third-party music provider
6 This is not a medical device and is not intended for use in the diagnosis or monitoring of any medical condition; see Garmin.com/ataccuracy. Pulse Ox not available in all countries.
7 Requires app on your compatible smartphone paired to the Descent Mk2 or Descent Mk2i
8 GPS tracking and satellite communication does not work underwater
9 Active satellite subscription required. Some jurisdictions regulate or prohibit the use of satellite communication devices. It is your responsibility to know and follow all applicable laws in the jurisdictions where the satellite communication device is intended to be used.
10 See Garmin.com/waterrating
Go to 【Pressroom List】